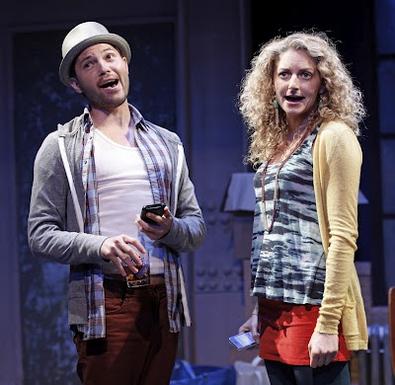 Having seen the original 1981 production of this one-act, dialogue-free musical, I have long maintained that it is the best of the Sondheim compendium shows. Unlike the others, such as "Putting it Together" and "Side by Side by Sondheim," "Marry Me a Little" contained virtually new—at least unfamiliar—numbers, either from early Sondheim works that few saw or songs that had been cut from the composer's better-known shows.
The concept, by Craig Lucas and the late Norman René, was and remains original and effective: two young New Yorkers, known simply as Him and Her, are stuck alone in their respective studio apartments on a Saturday night. Their identical units are only a floor apart in the same Brooklyn building, but the two dateless ones have never met, and may never meet. Yet their shared romantic frustrations and fantasies allow for similar musical ruminations, enough that they can credibly sing "duets" as well as solos.
The songs comprising the narrative have been added and dropped over the course of 30 years of productions. The current mounting, in which both Sondheim and Lucas were involved, is no exception. Of the 19 songs here (four solos each, 11 duets), no fewer than six were dropped from "Follies." Three quite rightly come from "Saturday Night." Two added songs work wonderfully: "Ah, But Underneath" from the London version of "Follies" and "Rainbows" from the unproduced movie of "Into the Woods." The two singers here are a bit mismatched. Lauren Molina, Her, has a stronger voice and more forceful personality. Jason Tam, Him, dances very well in two fantasy sequences but is more tentative in his vocal delivery—until he knocks "Happily Ever After" ("Company") out of the park. Both singers seem mercifully to have foregone microphones in the small venue, but while musical director John Bell plays a splendid piano accompaniment throughout, at times its sound imbalance can drown out some of the duo's softer deliveries.
Director Jonathan Silverstein glibly moves his cast of two around their separate but shared flats (the sceneic design is by Steven C. Kemp). But in attempting to update a timeless piece, he has removed some of its subtle charm. Fair enough that He now has a laptop (instead of the original typewriter) and both He and She have smart phones to provide song cues. But two double-entendre numbers, Her's "Boy Can that Boy Foxtrot" (cut from "Follies") and Him's "Bang! (cut from "A Little Night Music") are delivered more raunchily than need be. And those mutual fantasy dances from choreographer Dan Knechtges feature such tactile intimacy as to break down the basic conceit. If you've never seen "Marry Me a Little" you may enjoy the show; the rest of us have our memories. Either way, unsung Sondheim is better than most composers' greatest hits.
Presented by the Keen Company at the Clurman Theatre, 410 W. 42nd St., NYC. Oct. 2–28. (212) 239-6200 or www.telecharge.com. Casting by Calleri Casting.
Critic's Score: B-