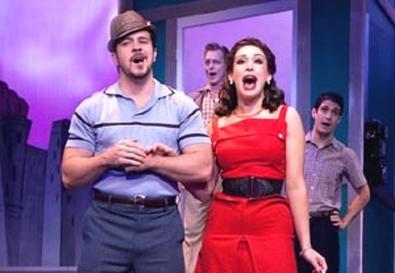 The time in "Once Upon a Time in New Jersey" is 1956, in an Italian-American neighborhood in a town that could be Hoboken. Most of the local kids are only high school graduates, and secretarial school is the escape of choice for young women who don't marry early. Connie Francis is a local heroine at a time of transition from pop to rock 'n' roll. Susan DiLallo's mostly plot-specific lyrics and Stephen Weiner's music for this charming and tuneful show neatly and subtly reflect the coming quantum shift in pop culture.
DiLallo also wrote the book, which offers a sweet-natured and credible context for the improbable plot. Two young men, Rocco (Jeremy Cohen) and Vinnie (David Perlman), switch identities for days, undetected by any of their lifelong friends and neighbors—even though they aren't even the same height. Rocco is the tough-guy lover who has all the girls in permanent swoon, while Vinnie is the shy, nervous counterman at his mother's Italian delicatessen. Angie (Briga Heelan), a blond Doris Day manqué, is both obsessed with Rocco and the girl of Vinnie's dreams. All three leads are first-rate, as is the entire cast of 15.
This neighborhood does have its outright criminals, including the experienced enforcer Eddie Vendetta (Jason Collins, who also serves as narrator and introduces the catchy title tune) and the arsonist and explosion expert Billy (Jonathan Gregg), the subject of "Married to a Thug," a deft comic song delivered by his dancing-teacher wife, Celeste (Catherine LeFrere). But mostly the block is benign and beaming with warmth, somewhat grounded by the only adult on stage, Vinnie's mother, Millie (Denise DeMirjian). It's the way '50s Jersey really was, or should have been.
This full-length production comes together as beautifully as any small-scale show has in several seasons. Cara Reichel's direction is smooth and clever, eliciting the substance beneath the froth. Christine O'Grady's choreography is a delight. The six-piece band, led by music director Remy Kurs, is on top of the varied score, which includes a satirical "Hello, Dolly!" introduction for Rocco and "I Always Knew It Was You," a lovely duet that could stand on its own outside the show. Jen Price Fick's versatile set nicely frames the company's handsome exuberance. Isabella F. Byrd's lighting and Sidney Shannon's costumes are also tops.
Presented by Prospect Theater Company in association with the New York Musical Theatre Festival at the Hudson Guild Theatre, 441 W. 26th St., NYC. Oct. 2–31. Thu.–Sat., 8 p.m.; Sun., 3 p.m.; additional performance Wed., Oct. 27, 8 p.m. (212) 352-3101, (866) 811-4111, or www.ovationtix.com.