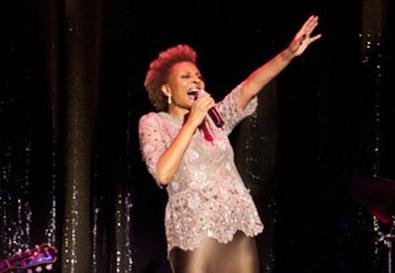 This scintillating solo vehicle gives 60-year showbiz veteran Leslie Uggams a chance to demonstrate that she's equipped with far more than the "nuthin' " that she croons about in "I've Got Plenty of Nuthin' " from the Gershwin opera "Porgy and Bess." Uggams' repertoire here also includes evergreen songs by Jule Styne, Rodgers and Hammerstein, and other great tunesmiths. This performer's bravura song styling and delectable warmth and wit, along with intriguing anecdotes about her life and career, yield a spectacularly entertaining evening.
Beginning the show by describing her early performances in amateur talent contests and her 1950 professional debut at age 7 opposite Ethel Waters in the sitcom "Beulah," Uggams then spins delicious tales of her experiences working alongside superstars such as Louis Armstrong, Dinah Washington, and Ella Fitzgerald at the Apollo Theatre. She describes her biggest career breaks: her Tony-winning 1967 performance in Styne's "Hallelujah, Baby!" and her years in the early-1960s TV show "Sing Along With Mitch." A particularly moving anecdote recounts how host-bandleader Mitch Miller stood up to the NBC brass when they tried to limit her time on the show, fearing that too much of an African-American performer would harm the show's ratings.
Uggams' voice is in tip-top shape, and she demonstrates her versatility by mixing pop chart–toppers like "Up on the Roof" (from her work with the Drifters) with a treasure trove of show tunes and bluesy classics. Her delivery of the Billie Holliday treasure "Good Morning Heartache," Harold Arlen's "Stormy Weather," and Jerry Herman's "If He Walked Into My Life" demonstrate her sublime affinity for torch songs. She's likewise winning in upbeat ditties such as "Sunny Side of the Street" and jazzy delights like Duke Ellington's "It Don't Mean a Thing." Conceiver-director Michael Bush ensures that the show is crisply paced throughout. Don Rebic's music direction and the orchestrations by Rebic and Gordon Goodwin are sensational, and the seven-piece onstage band is first-rate. Costumes by Tosca New York and lighting by Steven Young offer classy enhancements.
The title denotes Uggams' life journey from growing up in Washington Heights to the lights of Broadway and beyond. This lovely production makes it clear that wherever this vivacious performer hangs her hat is home.
Presented by KPC Incorporated with and at the Pasadena Playhouse, 39 S. El Molino Ave. Pasadena. Nov. 19–Dec. 12. Tue.–Fri., 8 p.m.; Sat., 4 and 8 p.m.; Sun., 2 p.m. (Also Wed., 2 p.m., Nov. 24.) (626) 356-7529 or www.pasadenaplayhouse.org.