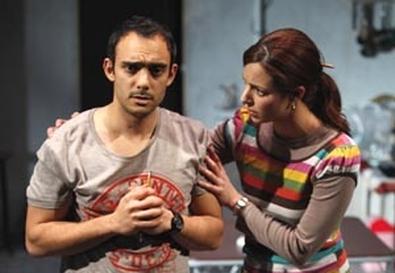 Though its theme is familiar and it has a few structural flaws, Mona Mansour's "Urge for Going" displays plenty of promise and offers a compassionate view of a part of the world American theatergoers seldom get to see.
The title really says it all. Seventeen-year-old Jamila longs to leave her home in a Lebanese refugee camp, where her Palestinian family has been living since they fled the West Bank during the 1967 Arab-Israeli War. Her parents and uncles cling to their squalid abode on the slim chance that they may one day be permitted to return to their homeland. Her older brother, Jul, once the hope of the family, also has little ambition to depart, having suffered brain damage as a result of a violent confrontation with a Lebanese soldier.
Jamila's one chance to get out is to score high marks on a baccalaureate test for admission to a special school in Damascus, Syria, but it will require her father, the somewhat pompous Adham, a former English literature scholar, to cast off his pride and get his hands dirty by conniving and possibly bribing to get his daughter on the schedule. He's reluctant to do so because of his own dashed academic hopes, cut short because of the war.
We've seen the basic plot of intelligent child rebelling against ideologically stuck parents many times before, but Mansour puts across her narrative with detail and passion. I particularly enjoyed the obsession some of the family have with "Baywatch" reruns, depicting the need for escapist entertainment in a hostile environment. Occasionally, the playwright stops the action to indulge in long expositional monologues from the older generation, telling us about the characters' past rather than showing its effect on them. Mansour handles this problem much better in the scenes between Jamila and Jul, revealing the history of Jul's mental problems and Jamila's ambitions through a childhood game in which the siblings pretend to be celebrities on a TV talk show. This way we get vital information indirectly.
Director Hal Brooks delivers a tight production, as real and immediate as set designer Jason Simms' perfectly realized shabby dwelling. We believe that these six individuals share this cramped, uncomfortable environment. Tala Ashe invests Jamila with a fiery yearning to leave her confining surroundings but also a child's fear of the unknown. Ramsey Faragallah captures Adham's intellectual bluster and wounded pride, which prevent this loving father from showing his true feelings to his daughter. Omid Abtahi steers clear of cliche in a sensitive portrayal of Jul. As Abir, Jamila's mother, Jacqueline Antaramian balances the character's love for her husband and understanding of her rebellious offspring. Demosthenes Chrysan and Ted Sod spar with vigor as a pair of quarrelling uncles.
Presented by and at the Public Theater as part of Public LAB, 425 Lafayette St., NYC. April 10–17. Tue. and Sun., 7 p.m.; Wed.–Sat., 8 p.m.; Sat. and Sun., 2 p.m. (212) 967-7555 or www.publictheater.org. Casting by Jordan Thaler and Heidi Griffiths.