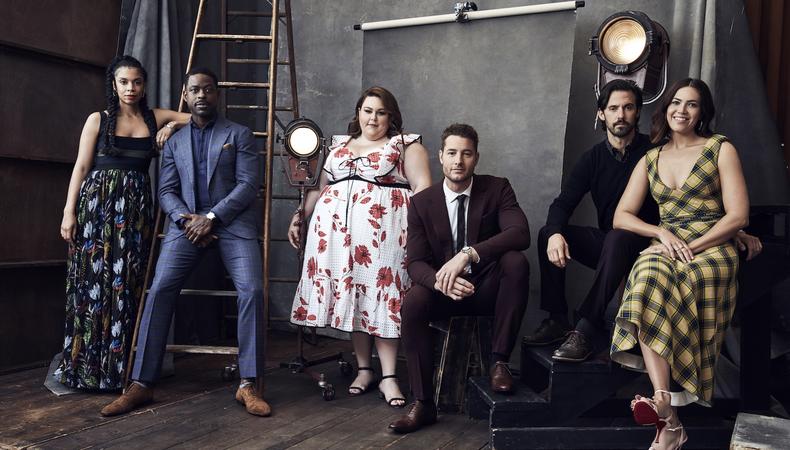 "It's always mystified me that some sets can be considered places where people operate out of a little bit of fear or [that] it's not a happy place to go to work," says "This Is Us" creator, Dan Fogelman. The atmosphere he describes could not be more different from that of NBC's time-hopping, multigenerational drama about a trio raised as triplets.
"We have what you would call kind of a 'no asshole' policy, where it's genuinely a warm environment," Fogelman continues, citing his cast—Mandy Moore and Milo Ventimiglia as the Pearson parents, plus Chrissy Metz, Justin Hartley, and "The People v. O.J. Simpson: American Crime Story" Emmy winner Sterling K. Brown as their grown children. "We have a lot of really good people working really hard on something they like."
Said policy bodes well for the show: Nearly 13 million real-time viewers watched the season finale in the U.S. this spring (episodes also air in Canada, the U.K., Australia, and Germany), a staggering stat in the streaming age, when hundreds of cable channels vie for our attention. "This Is Us" also earned three Golden Globe nominations in December, weeks before the network reupped for Seasons 2 and 3. The series is now vying for Emmy recognition before nominees are announced July 13.
Fogelman is no stranger to creating crackling chemistry between his actors (see: 2011's "Crazy, Stupid, Love.," with Steve Carell, Julianne Moore, and "La La Land" co-stars Emma Stone and Ryan Gosling—or even animated projects like "Cars" and "Tangled"). He insists his "This Is Us" players are each other's "biggest fans." On the Paramount lot in Los Angeles, he broadcasts upcoming episodes for them from his office's screening room, and they "don't really sit and watch and judge their own performance. They're always raving about the best scenes of the other actors. They genuinely support each other in a really cool way. And it's not B.S."
They began bonding during auditions, when those eventually cast went through rounds of chemistry reads, "fighting for the parts," Fogelman says. While he and network executives saw a lot of "people that could have been offer only–type actors," he's "proud" that "everybody came in." Seeing prospective talent in the flesh influenced casting for the better. For instance, despite the character breakdown for Jack—whom Fogelman envisioned as a "white-collar" everyman who was "almost a little schlubbier, doughy"—Ventimiglia won the role.
"Milo came in off his motorcycle with his beard and his long hair, just looking like the coolest, handsomest guy in the world," Fogelman recalls. "And it was a complete surprise that I said, 'Oh, this guy is the patriarch of this family.' It was very clear, instantly, to us."
Taking real-life cues from the "Heroes" veteran, the writers then steered his Jack to be "super-masculine" and "very simple but not stupid—simple in terms of his desires and the way he loves things and how hard he loves things."
To cast his wife, Rebecca—a small part in the pilot that Fogelman nonetheless "always knew" was at the heart of the show—he asked actors to audition with a speech from Episode 2, where she chastises Jack's barfly ways. Moore had previously voiced the lead in the Fogelman-penned "Tangled," and when this speech was added for her callback, she "crushed it."
"Watching her do it in the room and then on tape, it was very clear that she needed to do this part," Fogelman says. "She's got some serious chops, and that's really exciting."
Running down the call sheet, Fogelman was fortunate to sign "all of our first choices," miraculously avoiding common casting pitfalls such as "you really want somebody that you can get, but then it doesn't feel right. Or, you want somebody and the network or studio doesn't want them—or you want someone and they don't want to do it. We were lucky on a lot of fronts."
Ready to land a role in primetime? Check out Backstage's TV audition listings!