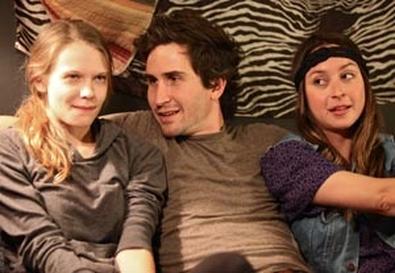 Playwright Sofia Alvarez brings a convincing voice to the tribulations of three young adults and their choices as they navigate morality and friendship. Sarah (Annabelle Borke) and Meagan (Amelia Alvarez), recent college grads new to L.A., are unlikely friends. Sarah is a loner, seemingly happy at home on her computer, making a living playing online poker. Meagan, on the other hand, is a party girl, out each night hooking up with guys and, in this case, bringing one home to crash on the couch. Charles (Ben Huber) is estranged from his wealthy family and eerily complex, a combination user and unlikely moralizer in situations involving both women. The conflict arises when the women develop a relationship with him, and, as the story unwinds, all three have to decide what paths they need to take to move forward.
Alvarez's story is provocative, creating identifiable character types who speak to the millennial generation's changing mores and attitudes. Huber and Amelia Alvarez bring real-life authenticity and passion to the storyline. Borke is dependable, but she appears to be covering a smile in scenes inappropriately, sometimes weakening the impact of the situations.
Costumes by Sara Ryung Clement are notable, especially Meagan's funky club-scene clothing. Director Casey Stangl does double duty with her realistic scenic design.
Stangl's directorial choices are economical, emphasizing plot over melodrama, which makes the scenes all the more suspenseful. As the story builds to its eventual climax, writer Alvarez eschews the pat ending and leaves the audience with lots of food for thought. Does love come in many guises?
In 90 minutes, Alvarez tackles the changing face of today's 20-somethings. Unlike many youthful and superficial comedies, hers presents a somewhat darker face on surviving in a place like Los Angeles, suggesting that the inherent character of success may lead to an opportunistic and destructive ending. Debate certainly doesn't end with the final curtain.
Presented by Tracey A. Leigh, Gates McFadden, and Tim Wright at the Atwater Village Theatre, 3269 Casitas Ave., Atwater Village. May 20–June 19, Fri.–Sat., 8 p.m.; Sun., 2 p.m. (323) 644-1929. www.atwatervillagetheatre.com.