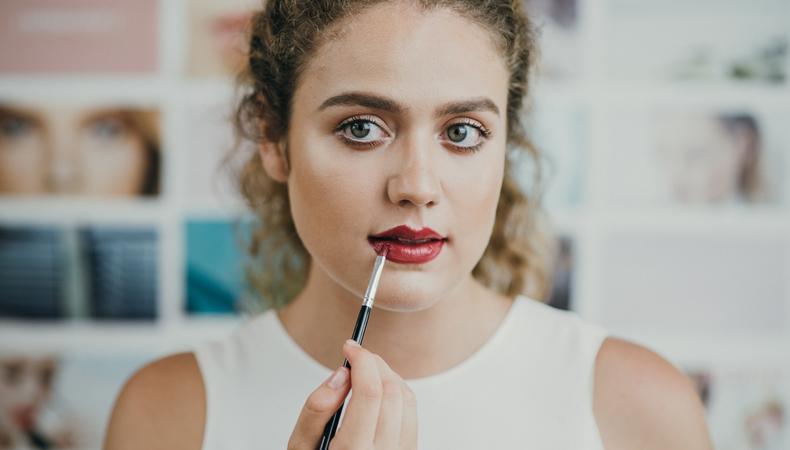 "How do you usually wear your hair and makeup?" This is the first question I ask actors when they sit down in my chair. As a headshot hair and makeup artist for more than 10 years, I've worked with countless actors and received a range of answers to this question. Some are very particular but many shrug and say something along the lines of, "I don't know."
My follow up question is usually, "What type of characters do you play?" From there, we can tailor the looks to fit their type. It can seem like an afterthought to some, but I encourage actors to be as mindful of their hair and makeup choices as they are about their wardrobe. We all know that the perfect outfit can get you into character, so why stop below the neck? You don't have to be a professional makeup artist to execute a look that expresses what you want.
It's important to make sure your features aren't being overshadowed by makeup, but subtle adjustments can be made to suit your character. For example, stay away from heavy, dark eye makeup—you don't want the audient to notice the makeup over the emotion. On the flipside, keeping eyeliner to only the outer edges of your eyes will open and widen them, conveying innocence, eagerness, or friendliness. Adding liner to the inner rim of the bottom eyelid (aka the waterline) will close off the eye, giving more of a mysterious look. Proceed with caution as this technique can make your eyes look smaller, but just a little liner under the eyes can be a great way to get into a character that's a bit harder, powerful, or sultry.
READ: How to Communicate (and Collaborate) With Your Headshot Makeup Artist
In terms of eyeshadow stay away from bright colors and stick to neutral warm universally flattering shades or none at all. A small, winged cat eye is a great way to give off a fun, quirky, comedic vibe without being too distracting.
Lip color is the easiest way to change up a look and have a bit of fun. Going with a nude or subtle pink lip is great on everyone, but red lips can also be very versatile. Depending on how you style the rest of your look, bright lips can be either quirky, retro, or sultry. Either way, bold lips can be a great way to add a bit of spiciness and make a statement.
If you're worried that red lips might be too much, try a lighter texture like gloss or a sheer formula rather than matte lipstick. Texture has a lot to do with how much impact the color has.
Deeper shades like rose or brown can be a great way to convey a more serious or tough character. I find that people tend to overthink lip shades and can usually pull off many more colors than they think they can. You'd be surprised how much changing up your lip color can help put you in a different state of mind and get you into character.
We don't have quite as many options when it comes to hair as you'll want to keep your hairstyle, cut, and color the same as your headshots. However, many of my headshot clients wear their hair both straight and curly. If that's the case, we always try to get shots with both. When we get direction or feedback from agents, they usually want curly hair for the more commercial or comedic shots—the curls read as friendly, upbeat, and fun. On the other hand, they like to see straight hair paired with a more serious, procedural look.
You don't have to be a professional makeup artist to execute a look that expresses what you want. Think of makeup as a tool that can give you a head start into a character. Embrace it and use it to your advantage. It doesn't have to be perfect, but just coming up with a plan and a routine will leave you feeling more prepared and confident when you step into the audition room.
Check out Backstage's short film audition listings!
The views expressed in this article are solely that of the individual(s) providing them,
and do not necessarily reflect the opinions of Backstage or its staff.