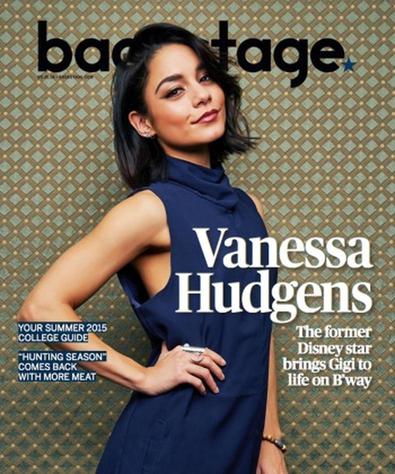 Vanessa Hudgens has a headache. "Of course you have the idea of what it is to do eight shows a week, but actually doing it is a whole different story," she says after several months of embodying the title character in "Gigi," first in Washington, D.C., and now on Broadway. "It's a grind and it's monotonous. But it's thrilling, and to be in a flow constantly I think is good for your psyche."
Hudgens is bouncing gently on a black leather chair with her high-heeled, thigh-high boots extended on the seat in front of her. She's trying to relax in a conference room before once again stepping into Gigi's belle époque shoes at the Neil Simon Theatre. Though she's been singing and dancing the role for most of the year, the previous night's performance was the first after which Hudgens could say to herself, "That felt really right—I felt that in my gut."
Gigi is the perfect bridge between Hudgens' squeaky-clean Disney past and her attempts to break out of the Mouse's confines with projects such as "Spring Breakers." As originally imagined by Colette, Gigi is a teen girl raised to be a courtesan by her grandmother and aunt, to flatter and wheedle money and jewels from wealthy older men. Through its various incarnations, the ebullient, sexy prose of Colette's original tale has been systematically softened until this version, which finds all reference to sex for money virtually erased. The musical—heavily revised from the Oscar-winning Lerner and Loewe 1958 MGM film—is now a girl power tale, a family-friendly "Gigi" for the Instagram age.
At the show's start, Gigi is still girlish, buoyant, and effervescent as she belts songs about champagne and the beaches of Trouville, France. But once her grandmother and aunt decide it's time for her to grow up, Hudgens is all poised elegance and floor-length gowns, capturing the romantic attention of talk-of-the-town millionaire Gaston Lachaille (Corey Cott).
"As soon as I got the part, the vocal aspect was my main concern," she says. "My biggest fear is being on a Broadway stage and cracking a note and sounding flat and sharp and all over the place."
After working on her songs daily and strengthening her vocal capabilities with help from a coach and quality warm-ups, she now says she has unparalleled control over her body and voice. Dancing Joshua Bergasse's robust choreography while simultaneously singing and breathing has allowed her to achieve a new sense of physical awareness and a "state of Zen" while performing—as Zen as it gets in a production where she plops into a chair at the end of a high-energy number, exhausted, before heading right into another.
"It's one thing to be physically fit, but it's another to be singing while you're active," she says about embodying a true triple threat. "Some nights my voice will be really tired and I have to remember to keep everything placed forward because if I don't, my voice slips to the back of my throat and gets all crackly and that's so bad for you."
The increase in Hudgens' work ethic and her focus on vocal care is a drastic change from the girl who went on worldwide tours in the wake of the Disney smash hit "High School Musical" and her subsequent solo album, "V," without warming up. The young performer had relied entirely on natural talent until she realized it wouldn't be enough to push her from good to great.
In the limelight ever since, Hudgens' celebrity status makes some scenes in "Gigi" about dealing with fame hit close to home. Luckily, her experiences fending off paparazzi and salacious tabloids gave her valuable insight to pass along to Cott about playing someone who incites everyone's curiosity.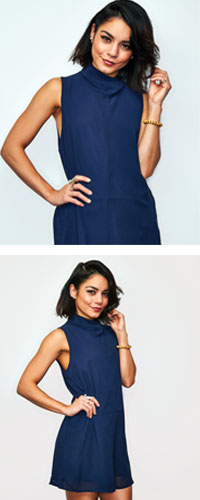 "When you look at our society and how people become obsessed with pop culture icons—they're just people," says Cott. "I've not experienced that to the level Vanessa has, so I picked her brain about that; little details of what it's like walking from your house to a coffee shop and having pictures taken of you from the second you walk out…. That's who Gaston is. He's like the Justin Bieber of the time."
Hudgens and Cott have developed a teasing camaraderie, which he says is in the nature of Gaston and Gigi's relationship in the first act. Cott would joke with her before shows, dropping "HSM" phrases like, "C'mon. You gotta getcha head in the game, Vanessa," or "We're gonna bop to the top!" to make her laugh. About their dynamic he says, "She makes me feel alive onstage."
His co-star agrees across the board, feeling like she's returned to her roots in the theater. "I was really, really shy when I was a kid," says Hudgens. "Whenever anyone would come into the room I'd hide behind my mom, and being onstage was the first time I felt comfortable standing on my own."
While she admits being away from her native California, friends, family, and boyfriend (fellow actor Austin Butler) is difficult, she feels a new sense of home at the Neil Simon.
"Being on Broadway is something I've always aspired to do, but you can never fully prepare yourself for the actuality of it happening," she says. "It was terrifying, but how many years go by where you ask, What did I do with myself that year? And you don't know! What's better to do than be on Broadway?"
---
A Magnifique Fit
The role of Gigi fits Vanessa Hudgens like a favorite outfit—which isn't always a good thing.
"I've gotten annoyed with myself because it's like putting on an old pair of jeans," she says about taking the stage six days a week. "You know they fit, you don't have to think about it. You can just go through the motions and know what you're saying. And then you get upset with yourself because you're not present, and it's this whole downward spiral."
The actor says she oscillates between getting onstage and understanding what it means to be an actor and thinking she doesn't deserve to be one. Even when she feels she's got it all figured out, telling herself, "That's how that scene should be done," trying to replicate a "perfect" delivery rarely goes as planned. "The moment you start trying to control or re-create an emotion or a moment, it doesn't work. It takes you out of it and you're not present," she says.
But her current struggles will surely prep her for 2016, when she'll be taking on another iconic role as Rizzo in Fox's broadcast of "Grease: Live." She says she's always thought of herself as more of a Sandy, but she's looking forward to playing a "bad girl."
"I'm going to have a really hard time not smiling all the time," Hudgens says with a giggle. "That's just my natural state and with Rizzo, you gotta work hard to get a smile on her face."
Want to read more? Check out our Backstage covers here!