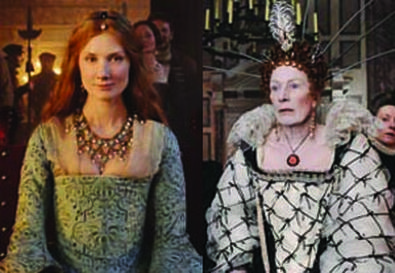 It's intimidating for anyone to choose the life of an actor, never certain what your next job will be and knowing only a small percentage of artists make a living at their craft. But imagine your mother is Vanessa Redgrave, one of the most revered actors in the history of the profession. Joely Richardson fell in love with performance as a child, putting on impromptu plays for family and friends. But she admits she at first resisted pursuing it as a career. "I knew it would be tough," Richardson says. "I think it is a huge misconception to imagine that if people in your family have gone before you and been successful that it will make it easy for you. I've seen it work against people again and again and again."
Richardson persevered and, much like her sister Natasha, went on to make a name for herself as an actor. Mother and daughter have even shared the small screen, when Redgrave appeared as the mother of Richardson's character on the series "Nip/Tuck." Later this month, the pair will share the role of Queen Elizabeth I in the epic drama "Anonymous." Directed by Roland Emmerich, the film investigates a long-popular theory that the true author of William Shakespeare's works was the Earl of Oxford, who also engaged in a torrid love affair with the Queen.
Back Stage: Vanessa, how did you react when Joely decided she wanted to become an actor?Vanessa Redgrave:
I don't remember the moment when Joely said she wanted to become an actress. Yes, I prefer "actress" to "actor" we don't refer to Queen Elizabeth as "female king Elizabeth," if you get my meaning! I do vividly remember her Rosalind in Shakespeare's "As You Like It" in her third year as a drama student. Her grace and spontaneity, and her joy in her love and the teasing of her lover, astonished me. Plus the fact that she spoke Shakespeare's text as if the words were her own, as well as his, an amazing facility.
Joely Richardson:
My mother was a little discouraging—I think any parent just hates the thought that their child will be rejected. But the fact is, it's a fact of life and we'll all be rejected professionally, personally—it's just a part of life. Helen Mirren said something about how we learn more from the bad times and our rejections than our successes, and I'm afraid I do think there is something to that. Not that you'd wish anyone a hard life, but I don't think you learn a lot of things if things are too easy for you in life.
Back Stage: Joely, has your mother ever given you advice about a role or the business of acting?Richardson:
Yes, however, when my father was still alive I would more likely go to him.
The best tennis player in the world might not be the best tennis coach. A director is more likely to be able to help, so I used to turn more to my father for advice. I think it was the first play I ever did, "Miss Julie," I was way too young to be playing the part. I was struggling with it, and I was absolutely not good. And my mother came to see it, and she certainly didn't say anything that would destroy me, but I think she was aware it wasn't exactly flying, and she just said, "Share all your vulnerabilities with the audience so that it keeps the communication open." And that's been very good advice. Rather than hiding and closing off, it's best to stay open.
Redgrave:
I don't think I am very good at giving advice, unless asked specifically about a problem. A poet wrote, "Tread softly, for you tread upon my dreams." A lot of harm can be done through well-meant advice, besides which, an actress has to trust her director, and listen to her director.
Back Stage: If you had to pick, do you have a favorite performance of each other's?Richardson:
Many of her films growing up had a huge impact on me, from "Camelot," which my stepfather was in, to "Mary, Queen of Scots" and "Isadora." I had a child's response to them; I could see that that wasn't her, but I had a hugely emotionally response to them. I'd say I'm even more in awe of her now, because I understand now more the machinations of the whole procedure.
Redgrave:
I am so admiring of Joely's performances, because I believe as I watch her in the existence of the woman she is playing. I have felt like this since I saw her in one of her first starring roles as the young girl in the London production of "Steel Magnolias." She was excellent as Queen Catherine Parr in "The Tudors" again I believed in the existence of this lady. I would say straightaway that Joely's Queen Elizabeth in "Anonymous" is my favorite among all the women she has played.