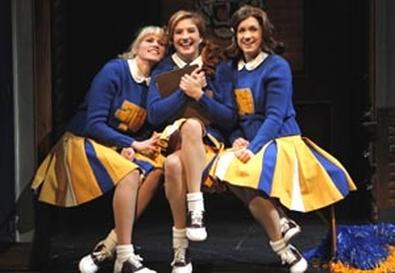 When Vanities opened Off-Broadway in 1976, critical reaction was tepid. But money from the sale of rights to the show for an ABC TV series (which was never picked up) kept the production going. Word of mouth spread, and Jack Heifner's bauble of a play about three Texas cheerleaders dealing with high school, college, and adult disillusion racked up 1,785 performances, one of the longest runs in Off-Broadway history. Audiences cottoned to Heifner's central gimmick—having the three actors make their age-changing costume and wig changes on stage—and the script's easy sitcom laughs, Hallmark-card philosophizing, and nostalgia for the eras of Camelot and Woodstock.

Now, more than 30 years later, Heifner and composer-lyricist David Kirshenbaum have fashioned a musical version. It's essentially the same story, but with an extra scene taking place "years later" to provide closure and reconciliation for the trio. The original ended with an argument and the friends splitting over the rejection by two of them of their shared youthful values of popularity and conformity at all costs.

This new tuner was originally slated to open on Broadway, but the recession put the kibosh on those plans, and that's probably the best thing that could have happened. A Main Stem run for this just-okay, small-scale tuner would most likely have been short. It's right where it belongs in a limited Off-Broadway noncommercial engagement. The show has its share of mild laughs and pleasant tunes, but it's not worth a ticket price of more than $100.

The staging, by Tony-winning actor Judith Ivey, is smooth and flexible, employing Anna Louizos' carefully detailed sets to create the different time periods. Being a performer herself, Ivey knows when to get out of the way and give her cast center stage. Each of the three has at least one number in which to shine.

Lauren Kennedy's promiscuous Mary goes through the most changes, from empty-headed schoolgirl to cynical erotic-art dealer. She soars while delivering a Burt Bacharach–style anthem to personal freedom, "Fly Into the Future." Anneliese van der Pol as the overly organized Kathy is deeply moving in the lovely "Cute Boys With Short Haircuts," in which Kathy laments her lack of romance as her well-laid plans fall apart. (If you need a ballad for auditions, this is worth a look.) As the ultraconventional Joanne, Sarah Stiles has the most histrionic opportunities and takes full advantage of them. She is a riot during a late 1960s number in which she advocates, "Let life happen, relax." Her stiff, jerky movements contradict the lyric's advice to hilarious effect. For a drunken comic song called "The Same Old Music," she allows Joanne's repressed emotions—anger, joy, sensuality—to slowly bubble to the surface as she takes progressively larger sips of champagne.

Yet despite the best efforts of this talented trio and director, Vanities remains a series of brief snapshots rather than a serious portrait of friendship and life changes.

Presented by Second Stage Theatre in association with Junkyard Dog Productions, Demos/Bizar Entertainment, Robert G. Bartner, Michael Jenkins, Dancap Productions, Kenny and Marleen Alhadeff, Jayson Raitt, Ambassador Theatre Group, Dallas Summer Musicals, Remmel T. Dickinson/Linda and Bill Potter, Sharon Rosen/the Raleigh Rally/Davelle at the Second Stage Theatre, 307 W. 43rd St., NYC. July 16–Aug. 9. Tue., 7 p.m.; Wed.–Sat., 8 p.m.; Wed. and Sat., 2 p.m.; Sun., 3 p.m. (No performance Fri., July 17.) (212) 246-4422 or www.2st.com. Casting by Jay Binder/Sara Schatz.