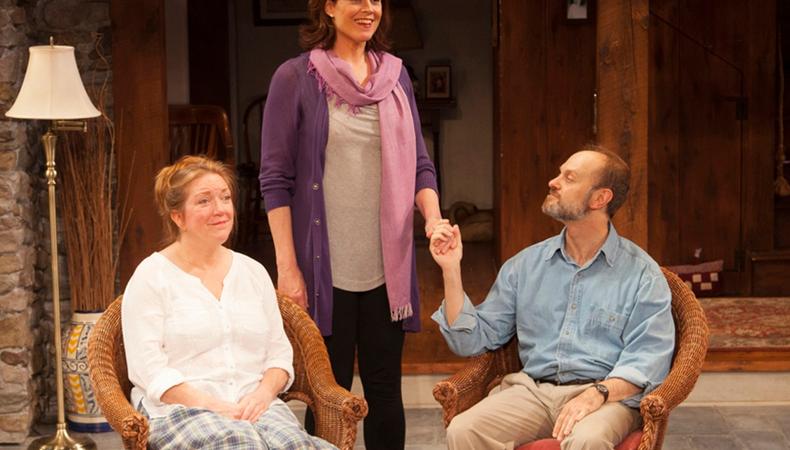 Christopher Durang is in an autumnal mood with "Vanya and Sonia and Masha and Spike," a lovely, generous, and very funny new comedy at Lincoln Center Theater about aging and regret that, as the title implies, riffs on the characters and themes of Anton Chekhov. As delivered by a pitch-perfect cast of six under Nicholas Martin's light, deft direction, the show lifts the heart even as it acknowledges an enduring strain of melancholy in the soul.
Set present day in an inviting stone farmhouse in Bucks County, Pa. (beautifully realized by set designer David Korins), the play examines the lives of three mismatched middle-aged siblings. Vanya and Sonia live in the house in which they grew up, having stayed on to care for their aging, Alzheimer-afflicted parents, now dead. Masha, Mom and Dad's favorite, got away and landed in Hollywood, where she became a famous film star. Masha owns the house and is the sole financial support of Vanya and Sonia, who never go out, have no friends, and are at each other's throats when not professing undying familial love. When Masha, who rarely visits, swoops in with hunky boy toy Spike, a shallow aspiring actor, it's because Masha has decided to sell the house, which her new personal assistant has convinced her is too much of a drain on her finances. But whither Vanya and Sonia?
Longtime Durang collaborator Sigourney Weaver (I first saw them together in their hilarious 1980 "Das Lusitania Songspiel") knows exactly what to do with the oxygen-sucking Masha, whose narcissism comes as natural to her as breathing. Bright and grand, Weaver can turn on a dime to bewildered injury or glowering petulance, yet she maintains a touching vulnerability throughout. As Sonia, more recent Durang muse Kristine Nielsen evinces the same comic lunacy that has made her so memorable in works such as "Miss Witherspoon" and "Betty's Summer Vacation" but mixes it with a more naturalistic approach. Nielsen is especially good fielding Sonia's tremulous phone call with a prospective date as a quiet sense of hope settles over her.
For most of the evening David Hyde Pierce—who reunites with Durang for the first time since "Beyond Therapy" on Broadway in 1982—plays the role of reactor as the phlegmatic Vanya, constantly trying to smooth the waters, and his comic timing with a look or a gesture is impeccable. But when Vanya finally loses it in a withering rant against all things modern and digital, Pierce is sensational, a flat-out riot. Newcomer Billy Magnussen is every bit the equal of these three comic vets as the inappropriate Spike, giving this sexy puppy dog a loopy, overdriven masculinity and an unshakeable emotional resilience.
Also contributing mightily to the proceedings are Shalita Grant, who's a hoot delivering dark prophecies or practicing voodoo as Cassandra, the soothsaying housemaid, and Genevieve Angelson, delectably dewy as Nina, an aspiring actor who idolizes Masha and just happens to be visiting nearby.
There is welcome wisdom and grace in this new, mellower Durang. I'm sold, and I think audiences will be too.
Presented by Lincoln Center Theater, in association with McCarter Theatre Center, at the Mitzi E. Newhouse Theater, 150 W. 65th St., NYC. Nov. 12–Jan. 20. (212) 239-6200, (800) 432-7250, or www.telecharge.com. Casting by Daniel Swee.
Critic's Score: A