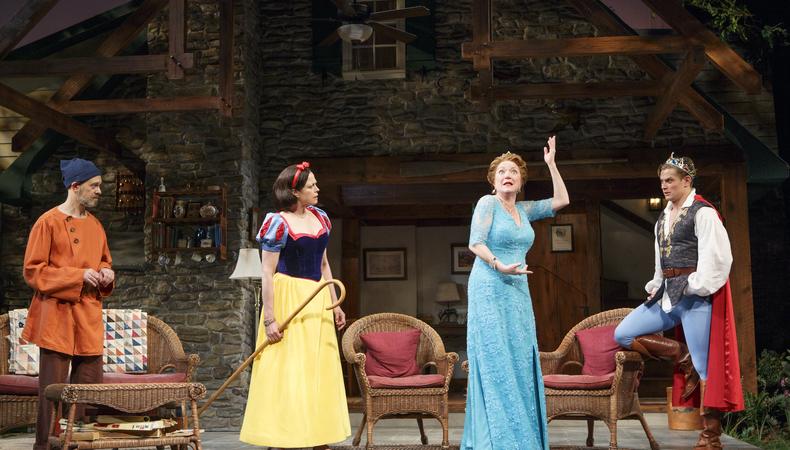 It has taken 30 producers to bring Christopher Durang's six-character, one-set comedy "Vanya and Sonia and Masha and Spike" to the Great White Way, and all I can say is God bless them, every one. A sold-out hit Off-Broadway for Lincoln Center Theater this past fall, it is easily the best new play of the Main Stem season to date and a top contender for the Tony Award. Both breathtakingly funny and quietly poignant, this Chekhov-inspired work—for which knowledge of the Russian master's plays is not a requirement—is pure joy from start to finish.
Middle-aged siblings Vanya and Sonia live out their mundane existence in the Bucks County, Pa., home in which they were raised, cared for their Alzheimer's-afflicted parents until their deaths, and have languished ever since. He's resigned to his humdrum lot; she wants more but doesn't know how to get it. Youngest sister Masha, a glamorous international movie star, pays the bills but rarely visits. Today, however, she deigns to descend with her current paramour, hunky wannabe actor Spike, ostensibly to attend a nearby costume party. The real reason is to make arrangements to sell the house; Masha's new personal assistant, the unseen Hootie Pie, has convinced her that it is too much of a drain on her finances. Also in attendance are Cassandra, the household maid who can see the future and insists upon sharing it, and Nina, a demure young woman who wants to act, idolizes Masha, and just happens to be visiting the neighborhood.
Director Nicholas Martin has skillfully refashioned his original thrust staging for a proscenium house, and the happy result is a small but undeniable comedic boost, with the confinement of the action concentrating the show's energy. The performances, first-rate from the start, have all gotten richer and sharper, and the ensemble playing is beautifully timed and textured. Sigourney Weaver's narcissistic Masha is better integrated, every emotion radiating with childlike intensity as she thrashes about attempting to control events. Kristine Nielsen's loopy Sonia—her Maggie Smith impersonation is priceless—is an ideal foil, full of vinegar and gall yet also touchingly vulnerable, especially during a hopeful phone call with a prospective suitor. As Vanya, David Hyde Pierce lies in wait for most of the night, landing his laughs with an eyebrow lift or a muttered quip, until he explodes into all-stops-out hilarity with a meltdown about the drawbacks of modernity.
The three youngsters of the company confidently hold their own opposite their seasoned co-stars, who are all Durang vets. Lovely Genevieve Angelson is a comic concentration of innocence, enthusiasm, and entitlement as Nina. Whether convulsing while intoning dark visions of things to come or giddily practicing voodoo, Shalita Grant's impudent Cassandra is formidable. Billy Magnussen's often barely clothed Spike endears both in his bottomless need for approval, which causes him to flirt with anything that moves, and in his bubbling buddy-boy relish for the simplest of pleasures.
I have but one question for those 30 producers. Why can't I buy a T-shirt in the lobby that reads "Beware of Hootie Pie"?
Presented by Joey Parnes, Larry Hirschhorn, Joan Raffe/Jhett Tolentino, Martin Platt and David Elliott, Pat Flicker Addiss, Catherine Adler, John O'Boyle, Joshua Goodman, Jamie deRoy/Richard Winkler, Cricket Hooper Jiranek/Michael Palitz, Mark S. Golub and David S. Golub, Radio Mouse Entertainment, Shadowcatcher Entertainment, Mary Cossette/Barbara Manocherian, Megan Savage/Meredith Lynsey Schade, Hugh Hysell/Richard Jordan, Cheryl Wiesenfeld/Ron Simons, S.D. Wagner, and John Johnson, in association with McCarter Theatre Center and Lincoln Center Theater, at the Golden Theatre, 252 W. 45th St., NYC. March 14–June 30. (212) 239-6200, (800) 447-7400, or www.telecharge.com. Casting by Daniel Swee.
Critic's Score: A+