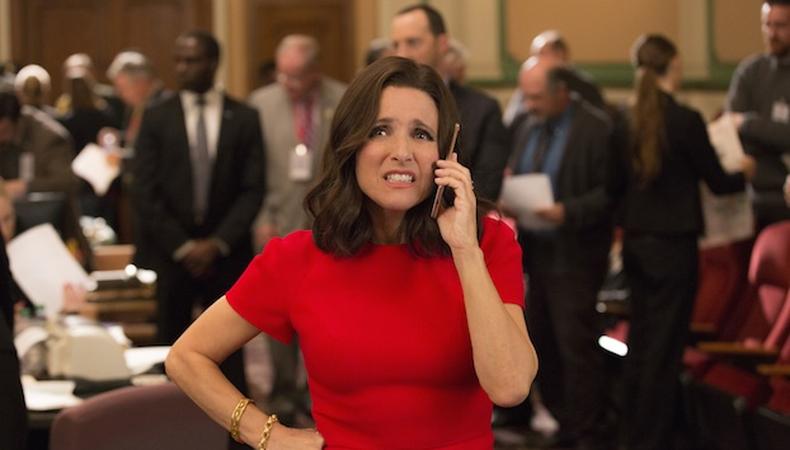 HBO's political satire "Veep" is back for its sixth season, following up a year after President Selina Meyer's (Julia Louis-Dreyfus) shocking election upset. Backstage spoke with several "Veep" cast members about the road ahead and how the hit show has impacted their careers.
Timothy Simons barely had a credit to his name when he was cast on "Veep." Luckily the seasoned cast and crew trusted him from the get-go with embodying supreme D.C. irritant Jonah Ryan. "I wasn't treated as if I was green; everyone got thrown into the room and was considered equal. My first suggestion [to people cast in a high-profile project] would be to be lucky enough to fall into a group of people that treat you like that—which I know is rare," he concedes.
Simons attributes his unlikely casting to making a singular, firm audition decision. "From the beginning I didn't think I'd ever actually get cast, so it went back to that old thing of 'make a choice in the audition and run with it.' Don't try to figure out what they're gonna do with [the role]. I found out later I was cast against type, like Jonah was written to be a short, fat, bearded guy who was depressed and chain-smoked," says the slender 6'4" Simons, who imbued Jonah with gleeful cockiness. "So try not to talk yourself out of it."
READ: 4 Audition Hacks That Will Get You Noticed
Simons' audition tact should sound familiar to any Jonah fans or haters. "[I tried] to just be a shithead, just an absolute shithead. I tried to be super smarmy, and I think more shit-heel moments came out of rehearsals, like that smarmy, serial sexual harasser with no sense of self. Really I brought a lot to that," he adds, in jest. "That's something I brought to the table."
"Veep" features brutally profane, pinpoint writing, and as the series has gone on, the cast strays off that award-winning page less and less. "In the early seasons there were a bunch of fun takes, but this season in particular I'd say 90 percent of it is on the page," explains improv veteran Matt Walsh, an Emmy nominee for his portrayal of Mike McLintock. "After table reads we'll rehearse scenes that aren't working, and you're encouraged as an actor playing that role to say 'I don't think I'd say that' or 'Can I do this instead?' But on the day of filming, you don't even study your lines verbatim because you know you're going to have a new draft of that scene." Adds Simons, "A lot of the improvisational stuff early on was great for character building, kind of 'workshoppy', but we're more into it now and everyone has a strong sense of themselves."
READ: 'Veep' Star Anna Chlumsky on Trusting Yourself
Tony Hale has earned two Emmy wins and four consecutive nominations as Selina's deeply loyal aide, Gary Walsh. Gary, along with Hale's other best-known role as Buster Bluth on "Arrested Development," is typified in part by simmering anxiety, which Hale draws out from personal experience.
"I did struggle with anxiety as a kid and into my adulthood, and there's something kind of beautiful about painful stuff that you walk through that can be used for good in your professional life. The two people I have the most admiration for are Tim Conway and Bob Newhart. I remember watching them, and they just sat in anxiety, and sat in tension, rather than being broad about it. Because that's how my anxiety is: it's not very physical, it's not crazy and screaming, it's just everything is going on in [my] head. [On 'Veep'] there's so much chaos, but they just kind of sit in the tension and the awkwardness of the chaos. And that's cool to play that out.... To have those moments though where [Gary] can react and can scream is such a gift to be able to do."
And as for Julia Louis-Dreyfus, she doesn't take for granted her time as the show's lead and executive producer. Despite copious awards recognition and a legendary career, she remains grateful for the world of "Veep" and the people that made it possible.
READ: 14 (Fictional) Film and TV Presidents
"I do feel like we have a lot more story to tell. These roles have long legs, this show has a big life, and we're not done with it. So I'm excited to be a part of this journey, because it's a miracle that this has all worked out as well as it has," she says. "We've all been in show business long enough to know what a miracle it is. I'm just trying to enjoy it as it's happening; you know how hard it is to 'stay present', as they say...but it is really a fucking gift."

"Veep" Season Season 6 is on HBO every Sunday at 10:30 p.m. EST and Season 5 is out now on DVD and Digital HD.
Looking to bring your own character to the small screen? Check out Backstage's TV audition listings!