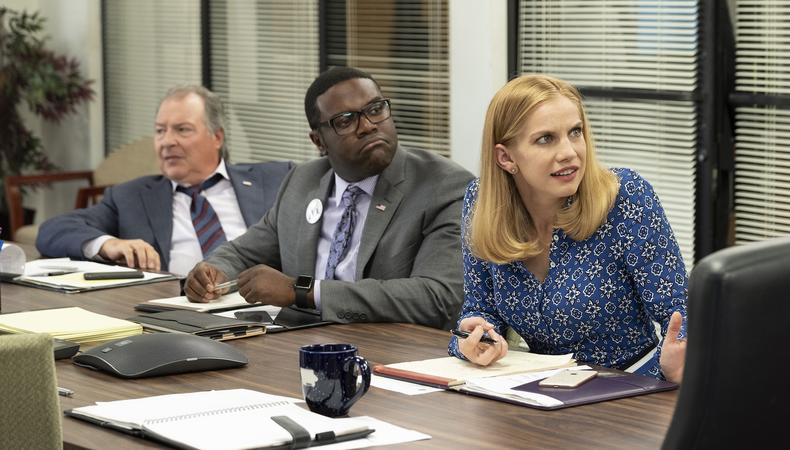 With this Year in Review, we at Backstage have picked through the weeds and found 2019's true gems of the best big- and small-screen ensemble work. And don't worry: We've got you covered with everything else you need to know this awards season right here.
Distributed by: HBO
Created by: Armando Iannucci
Casting by: Dorian Frankel, Allison Jones, Sibby Kirchgessner, Pat Moran
Cast: Sufe Bradshaw, Anna Chlumsky, Gary Cole, Clea DuVall, Kevin Dunn, Tony Hale, Julia Louis-Dreyfus, Sam Richardson, Reid Scott, Timothy Simons, Sarah Sutherland, Matt Walsh
There's a kind of catharsis in watching horrible people say horrible things to each other. You get to laugh at people giving into their basest impulses while also distancing yourself from them in relief—a feeling of "At least I'm not as bad as those idiots."
READ: 'Veep' Creator Armando Iannucci's Unlikely Way of Mining Comedy From Reality
The idiots of "Veep," created by Armando Iannucci, are experts in creating that catharsis. Led by producer-star Julia Louis-Dreyfus as political climber Selina Meyer, the HBO satire's clown car of a cast bring out the very worst in each other, with hilarious results. Whether they're the ones being humiliated, doing the humiliating, or often some hysterical combination of the two, the SAG Award–winning ensemble turned shameful vices into comedy gold for seven peerless seasons.
But watching "Veep," there's always an edge to our laughter. Everything is a touch too familiar. Like a funhouse mirror, this series sought to reflect—albeit with exaggeration and slapstick humor—the U.S. politicians and power players of today. Developed not long after Sarah Palin almost became the country's first female vice president, and concluding after Hillary Clinton almost became our first female president, "Veep" is inspired by recent American history just enough to make us uncomfortable; we can shake our heads and laugh at the incompetence and corruption of these fictional characters, but can we ignore the incompetence and corruption of their real-life counterparts?
In its last season (after a two-year hiatus during which Louis-Dreyfus underwent cancer treatment), reflecting reality without imitating it surely became the show's trickiest tightrope to walk. Because of a president whose daily shenanigans would feel too absurd on any sitcom, showrunner David Mandel had to give the buffoons of "Veep" their own buffoonery. Season 7 feels more frenetic and alarming than those preceding it, still weaving in political issues and trends relevant to today, but with a distinct chaos in which its actors can play.
And play they do. As Selina's staffers, supporters, enemies, and everything in between, the supporting cast around Louis-Dreyfus achieve that goal of ensemble acting: Each can be hilarious solo, but they're even greater together than the sum of their parts. As the ambitious and righteous Amy Brookheimer, Anna Chlumsky takes her clenched physicality into hilariously harried territory during her final roller coaster of a character arc. The show's most ridiculous character, presidential hopeful Jonah Ryan, is somehow believably stupid thanks to Timothy Simons. And as Gary Walsh, the subservient and sassy assistant to Selina, Tony Hale has officially turned muttering under one's breath into a comedic art form.
Kevin Dunn and Gary Cole as Selina's deadpan advisers Ben Cafferty and Kent Davison, respectively, offset the high-octane hysteria around them. Reid Scott, as schemer Dan Egan, is a similarly low-key foil, his constant smirk reminding us certain men can get away with anything. Sarah Sutherland's Catherine Meyer and Clea DuVall's Marjorie Palmiotti become a hapless yet heartwarming odd couple, while their sperm donor Richard Splett, played with sweet earnestness by Sam Richardson, experiences the unlikeliest political ascendance of all.
And although she's rewritten record books in this role (six consecutive Emmy Awards!), it can't be overstated how masterfully Louis-Dreyfus brings Selina's final chapter to a close. The level of incompetence in President Meyers' office may be staggering, and the same may be said of real presidents, but in her performance we trust.
This story originally appeared in the Nov. 13 issue of Backstage Magazine. Subscribe here.
Want more? Stay in the loop with everything you need to know this awards season right here!