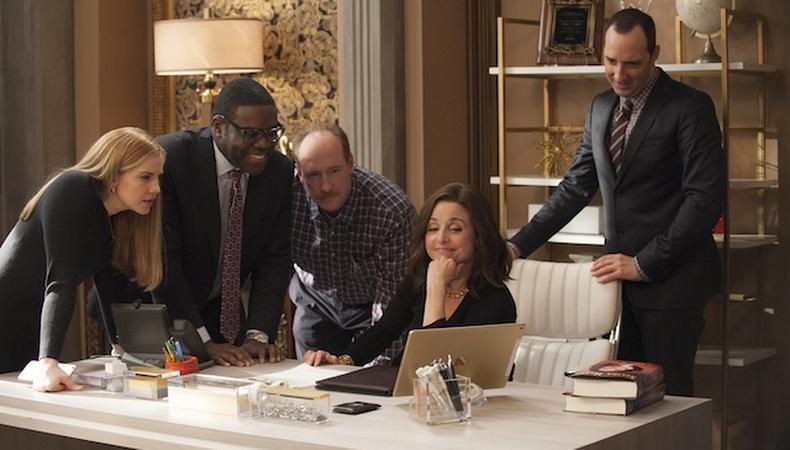 When set decorator Kimberly Wannop joined "Veep" Season 5, she was faced with the herculean task of recreating entire sets for a series moving across the country. And now, after the show's sixth season, she's nominated for an Emmy alongside production designer Jim Gloster and art director Karen Steward. Wannop's credits also include NBC's "Parks and Recreation," NBC's "The Good Place," and Fox's "Bones." Here, she tells Backstage about landing her dream job and reveals the best compliment a set decorator can receive from the cast.
Have you always been interested in TV and movies? Was this the job you always hoped to have in production?
It is. I started out young watching a lot of TV and always was dazzled by Hollywood and really thought I wanted to be part of i—but I never thought that I would. I pursued a design career and started out in architecture and interior design. After college, I thought I would try it. When I moved out here, I gave myself eight weeks because I had no money. I got a job after six weeks as a PA on "Malibu, CA," basically a "Saved by the Bell" NBC Saturday morning show. It was so perfect when I look back on it because I worked in the office and on set. I got the best of both worlds. I worked my way up through almost every position into the art department. It was a merging of two things I love: TV and design. I do have my dream job.
READ: The 'Veep' Cast on Audition Tips and Embodying Your Character
You joined "Veep" for Season 5 when it moved production across the country to Los Angeles. What was that big move like?
It was insane because we received 23 vans full of set dressing. They packed everything up precisely and labeled, but we literally we got an "Indiana Jones"-type warehouse full of set dressing, and it was completely overwhelming. But little by little once the sets started to be built and we could dress the West Wing or the Oval Office, everything started to diminish. It was all very overwhelming in the beginning taking over this massive show.
You worked on "Parks and Recreation," which grew into a larger political show. Did the transition to "Veep" make sense for you?
I've basically been in government for eight years at this point. It is different in the sense "Parks" is a little more whimsical, and so with these outrageous sets we have a little more fun with it. With "Veep," it's more realistic. We do extensive research on offices. There is the reality of wires everywhere and coffee stains, whereas "Parks," we like a clean table, there are no marks on it. But yes, I am familiar with government-issued furniture.
What's it like being on a show from the beginning compared to coming in on an already-running show?
For me, it's good because if you have watched that show, you know who these characters are, and you're just keeping the vibe and keeping it going. You're not really creating the base that they did in the pilot. When you take over a show, I definitely respect the prior decorators and their work and see the details they put into it and make sure to keep what they've done. I don't go in and just change everything because I'm a different decorator. I'm respectful to that. As the show goes longer, then it becomes mine. I begin to fade out little things and put my own twist on it. Working in TV is just perfect because you get time and seasons to develop characters through the look.
Do you get a lot of face time with the actors on set?
I do in the sense I'm there when they rehearse. I'm there through mostly the first take to make sure the set is right for the scene and their actions work. Sometimes you have to move a table, for example, so the mark is in the right spot for lighting. You want to see the actors faces, especially if it's a set for their character.
On "Veep," if I'm doing Dan's office I want to be there when he comes in, so he's like, "Yeah, I could see this." You want to make sure they're happy with it. I don't really live in the world of talking too much with the actors, like asking for example what does Ben's chair look like. That's my job. Julia [Louis-Dreyfus] is also a producer on the show, so there are art department meetings she's sometimes in, and she does get a look and approval of concepts ahead of time.
What was your favorite set from this season of "Veep"?
Recreating the Green Room and the Red Room in the White House. I definitely have done so much research on every single piece in those rooms. It's history that I should know, and I didn't before I started it. Just trying to capture how beautiful those rooms are, and then getting compliments like, "I thought you really shot that in the White House"—it floors me and humbles me because we do take time to get it right.
What's your favorite part about being on set?
I usually feel like if I'm on set, something is wrong. I should be two steps ahead of everyone. Once the actors get there, it should be done. We've built it, the camera is there, and it has to be ready to go. My biggest fear is they're waiting on something for me.
Standing at video village and seeing what the audience is going to see, that's my favorite part. Thinking, Oh, I should adjust that, or, That is the perfect pillow—I nailed that. Seeing Selina's office for the first time this season. It's exciting to see the work through the camera.
With "Veep," I love how much we could squeeze into four sound stages. It's like wall to wall on our four stages. I do love walking from the House of Representatives into CBS and then into Selina's office. We've created this world on stages, and you're just walking into these different worlds, and they're back to back because we had no room!
What's one thing actors can do on set to make the life of a set decorator easier?
I think when the actors get comfortable in a set before a scene—it does kill me to see someone put feet on a coffee table, but I do want them to be comfortable in this little world. I want them to see I picked out these little things on the desk. For example, for Jonah, because he had cancer, we put all these cancer things on his desk. For Dan, he has little exercise machines on his desk and only has pictures of himself in his office.
I want the actors to recognize those details. The best compliment is when something on the set dressing gets pulled into a scene. We designed a specific desk for Selina this season: no drawers, very modern and simple. We showed Selina's new set to Julia, and we thought we could just do this all season, a rotating assistant thing where she just keeps getting new desks. There is opportunity there when the actors see the dressing that gives them an idea—maybe this chair can fall back or this chair looks so big for her to sit in. Those types of things when they see themselves in the set, they can make a joke out of it.
Want to work in TV? Check out Backstage's TV audition listings!