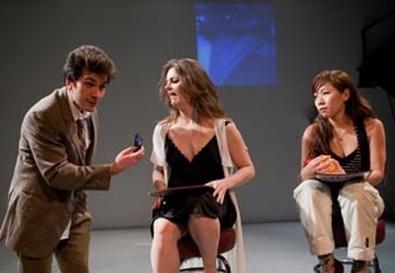 Named after a sexual practice involving fists, anal sex, and a daisy chain, Matt Wilson's play "The Ventriloquist Circle," currently running at Dixon Place in a production by the New York–based theater company Sister Sylvester, takes the form of a surrealist detective story in order to explore notions of power, renegade sexuality, and love. I have no doubt that he and his director, Kathryn Hamilton, know exactly what each perplexing scene and obtuse speech means. I don't. That's acceptable in the realm of surrealism as long as the artists involved are perceived to have something to say. The issue becomes dicey when the layers of nonsense overlying the sense are so thick that audiences grow weary of excavating. I gave up in exasperation about halfway through.
The story revolves around the murder of the Milkman, a video porn star famed for pouring milk over himself during sexual acts. Suspicion falls on his wife and co-star, the Lonely Housewife, and her rival-lover, the Girl Next Door. Two male detectives involved in an apparently abusive physical relationship arrest an equine fetishist called the Horse. At the Horse's trial, the Milkman's Father admits to having kissed his son (no tongues involved), which causes the Horse to erupt in a fit of jealousy and reveal himself to be the murderer (I think). Interspersed with this tale is a subplot involving the Aerobic Stripper, a former ecdysiast who can no longer bear to remove his clothing, even to shower. During a climactic dance number that includes the entire cast, he strips naked for the first time in years.
Although none of the characters possesses much dimension, some of the actors manage to make impressions as individuals. Daniel Piper Kublick as the Milkman spends the play dressed only in white briefs and wearing a belt of milk bottles, but it's his scowl that brings him to life. As the Horse, James "Face" Yu renders an otherworldly character likable. Zoe Kira Mey smolders as the Girl Next Door, and Greg Bosse engages our empathy as the Aerobic Stripper.
Marina Porter's zany costume designs constitute the wittiest work in the show. Damon Pelletier's empty space of a set makes a virtue of not contributing to the craziness occurring upon it. Manolo Moreno's sound design interweaves suggestive sighs and cheery pop tunes to reinforce a throb of desire lurking beneath reality's vapid surface.
Since the dawn of the 20th century, theater artists in the early parts of their careers have rebelled against the strictures of our dominant theatrical idiom, realism. Unfortunately, their desire to do so rarely leads to more than a superficial rejection of narrative and all too often traps them in senseless impenetrability. From that perspective, "The Ventriloquist Circle," rather than being groundbreaking, settles into place within a well-worn tradition.
Presented by and at Dixon Place, 161A Chrystie St., NYC. Jan. 6–28. Fri. and Sat., 9:30 p.m. (212) 352-3101, (866) 811-4111, www.theatermania.com, or www.dixonplace.org.