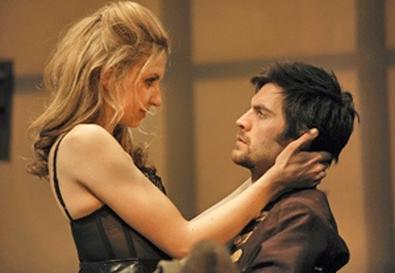 When Nina Arianda as a frazzled actor bursts in on Wes Bentley as a tired director-playwright at the end of a long day of auditions, David Ives' "Venus in Fur" seems to be headed in a predictable direction. Despite his protestations that she's too late to read for his new play based on the 19th-century erotic novel of the title—actually "Venus in Furs," by Leopold von Sacher-Masoch, whose name gave us the word "masochism"—you just know he'll relent and allow her to audition. They'll act out the script; reality and fantasy will blur; there will be many jokes about Off-Broadway, auditions, and The New York Times that the theater-friendly audience will dutifully chuckle at; she'll be unexpectedly brilliant; and the two will form some kind of relationship. All of that does happen. Nevertheless, Ives turns what could have been a comic sketch into a devastatingly surreal examination of sex and power.

As Thomas, the author-director, and Vanda, the actor, play out his script, secrets of both are gradually revealed. Thomas shares several kinky fetishes with his hero, an Austrian nobleman. Vanda shares more than a name with the mysterious dominatrix she is playing. Dominance shifts between the two as Vanda takes control and her real identity is finally revealed.

Director Walter Bobbie has collaborated with Ives on many projects, including the Broadway version of "White Christmas," and this play is certainly a switch for them. Bobbie's staging is full of surprises, from the startling opening to the endless props that Vanda pulls out of her bottomless carryall. His two actors play off each other with precise timing, inflection, and body language, generating carnal heat and comic sparks in equal measure.

Arianda is a performer to watch. She switches from the kooky, out-of-control actor to the cool, totally-in-control European temptress of the script without missing a beat. Her character—both in and out of the scenes from Thomas' play—undergoes many changes, and Arianda documents them all with a sharp eye and a committed technique. Bentley has the less showy role, yet he makes Thomas' transition from self-assured helmer to quivering lump of masochism believable.

Kudos also to costume designer Anita Yavich for wardrobe choices that bring the play's sexual fantasies to erotic life.


Presented by and at Classic Stage Company, 136 E. 13th St., NYC. Jan. 26–March 28. Tue.–Sat., 8 p.m.; Sat. and Sun., 2 p.m. (212) 351-3101, (866) 811-4111, www.theatermania.com, or www.classicstage.org. Casting by Calleri Casting.