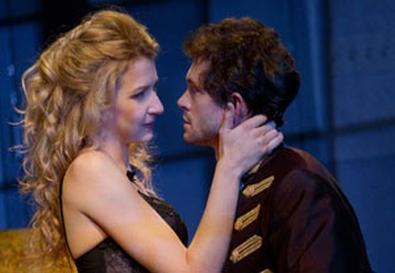 Very rarely do we see an actor come out of nowhere and with a brilliantly assured performance take the New York theater scene by storm. Nina Arianda did just that in February 2010 in Classic Stage Company's production of David Ives' "Venus in Fur" when she burst into John Lee Beatty's dingy rehearsal-room set as Vanda, the seemingly frazzled performer who knows more than a little about the European dominatrix role for which she is auditioning. Before our eyes, Arianda transformed Vanda from a kooky wannabe star to a blazing icon of sensuality, switching back and forth between personae without batting an eye. After the relatively brief run, she made her Tony-nominated Broadway debut in a totally different part, the gloriously dim moll Billie Dawn in an undeservedly short-lived revival of "Born Yesterday." Now, thanks to Manhattan Theatre Club, Arianda is on the Main Stem in the dazzling role that first brought her to our attention. British star Hugh Dancy, who now plays Thomas, the director-playwright Vanda reads for, may have the bigger box-office name, but make no mistake, this is Arianda's show.

Ives' premise at first appears slight and predictable. Flighty Vanda arrives late to try out for the lead in a new play adapted by Thomas from the 19th-century novel "Venus in Furs" by Leopold von Sacher-Masoch—whose name birthed the word "masochism"—about an Austrian nobleman with a fur fetish who turns himself over to the whims of a mysterious coquette with an unexpected control-freak streak. The auditions are over, everyone else has gone, and Thomas is about to leave for a date with his fiancée. Nevertheless, the persistent actor convinces him to allow her to audition. They read from the script, Vanda is amazing, sparks are struck, and the line between reality and illusion is blurred. But as the two vie for dominance, what could have been a comedy sketch becomes a scary and haunting examination of sexual roles, gender identity, and the attraction of power.

There is some loss of intimacy in the transfer from CSC's vest-pocket three-quarter space to the Samuel Friedman's Broadway-scale proscenium, but Walter Bobbie's staging remains robust, seamlessly shifting from theater-insider comedy to near-porn-level eroticism. Peter Kaczorowski's versatile lighting aids in this department, providing multiple moods, as do Anita Yavich's sexy costumes, which facilitate the metamorphosis from the "real" world where the play begins to the nightmarish realm of sexual fantasy where it ends.

But Arianda remains the engine that drives this intermissionless thrill ride, revving on all cylinders as she progresses from desperate actor to imperious seductress to all-powerful goddess. She gets an added fuel injection from her new acting partner. Dancy adds depths to Thomas that the role's originator, Wes Bentley, failed to find. When Vanda begins to step out of the script and literally take control of the situation, Dancy's eyes light up with a weird combination of fear and anticipation. His Thomas is scared out of his wits by the turn of events, but he's also a little excited. Part of him wants to be dominated. This causes the interplay between the two characters to become more heated and dangerous. Arianda takes that spark and uses it to make her already blazing interpretation burn all the brighter.

Presented by Manhattan Theatre Club by special arrangement with Jon B. Platt, Scott Landis, and Classic Stage Company at the Samuel J. Friedman Theatre, 261 W. 47th St., NYC. Nov. 8–Dec. 18. Tue. and Wed., 7 p.m.; Thu.–Sat., 8 p.m.; Wed., Sat., and Sun., 2 p.m. (Additional performance Mon., Nov. 21, 7 p.m.; no performance Thu., Nov. 24.) (212) 239-6200, (800) 432-7250, or www.telecharge.com. Casting by Nancy Piccione and James Calleri.