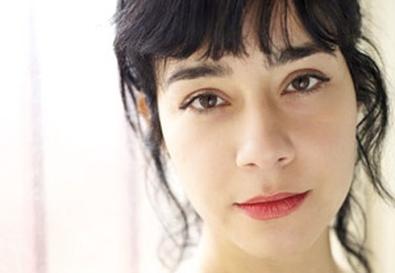 "When I first read the script, it felt like when you wake up from a dream," recalls "Sweetness" star Veraalba Santa. "You try to put it back together like a puzzle. Even though you can't quite explain what happened, you still have the intensity in your body." Fittingly, the original audition piece that landed her a leading role in the dramatic short film was based on a nearly century-old dream.
After submitting herself for the role of Arianna, a dancer whose relationship is swiftly deteriorating due to her partner's alcoholism, Santa received a specific directive for her first New York audition since graduating from a two-year conservatory program at the Neighborhood Playhouse last May. "The producers sent me some selections from C.G. Jung's writings on dreams, and I was to choose one and prepare an interpretation using text and movement," Santa explains. "It was very in tune with the kind of training I received back in [my native] Puerto Rico."
"Sweetness" director Joe Lueben reasons, "We didn't want anyone to come in with something they had maybe prepared a million times already, because they might have been really good at that one piece." Response to the esoteric request was mixed. "Some people just had no idea and seemed very uncomfortable," he admits, "but we knew the right person would bring life to these lines—these dreams—and whose work would be completely tailor-made to what we were looking for."
For her part, Santa chose the Jungian scenario wherein a young patient dreams of a frightened horse that tears through a series of rooms before jumping through a window to its demise. Relishing the opportunity to draw on her extensive dance training, she turned the potentially morbid exercise into a wellspring of inspiration. "I rehearsed by myself in a gazebo in Prospect Park," she says, "and I chose to use dance heels to create the atmosphere of the horse by doing a series of flamenco-like percussive steps that would go in crescendo as the horse ran through the room."
Santa's creation tore through the audition room in its own right, winning over a passionate creative team that instantly knew it had at last found its Arianna. "From the moment she started, what stuck out about Veraalba was that she really took it to heart. The way she delivered her lines was more out of her body than her mouth. It was exactly what we were looking for," says Lueben.
Santa says that her character in "Sweetness" is "exorcised" and learns to find forgiveness through dance. "The language of movement can be very powerful," she says. "It's very important for me to always continue training in dance, because it really helps my acting. If I know what I'm doing with my body, I know what I'm doing with my words."
Santa is nonunion but is American Federation of Television and Radio Artists–eligible. She plans to remain in New York for the foreseeable future and can be contacted via the BackStage.com talent database.
Has Back Stage helped you get cast in the past year? We'd love to tell your story. Be in the weekly column by emailing casting@backstage.com for New York or bswcasting@backstage.com for Los Angeles with "I Got the Part" in the subject line.