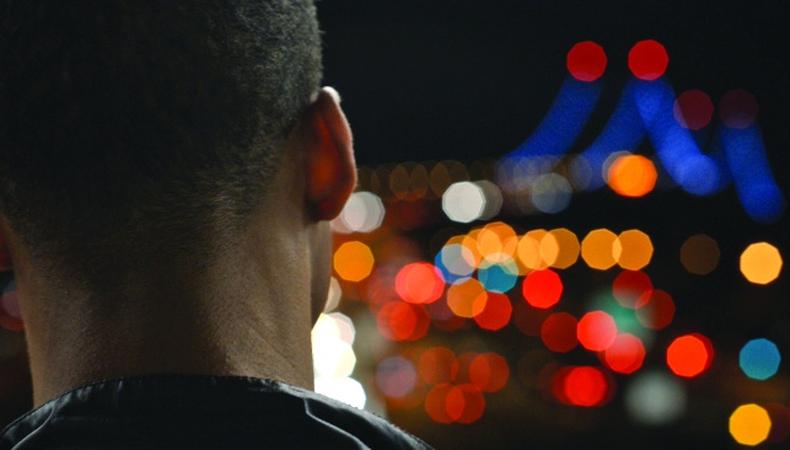 Arriving late to pick up your girlfriend at the airport because you had an audition, not visiting home in two years because you're on the verge of your big break—these are just two of the all-too-relatable situations explored on "The Verge," the Web series about actors on the brink of success.
"[It's] that tricky balance of navigating what really sort of fuels our passion professionally—dealing with all the constant rejection while also trying to maintain healthy relationships with the people we care most about in our lives," says director Ross Denyer, who also acts in the series.
From the mind of writer-actor Mark St. Cyr, who stars as Chase, "The Verge" was first mentioned in early 2013, when St. Cyr pitched the idea to Denyer, his college friend.
Using websites, including Backstage.com, the two received over 4,000 submissions for just seven or eight roles; Denyer says the cast was "perfect" and that he has "absolutely no regrets." With thousands of submissions, Denyer says he can now "really understand the plight of the casting director."
For "The Verge," the cast had to be relatable and convincing, considering the story arcs have the ability to tug at any actor's heartstrings. Even Denyer admits that the balance between pursuing your career dreams and preserving relationships with family and friends is challenging but "if it's what you really love and if you really love the people in your life, you can find a way. It's a tightrope; I'm still navigating it," he says.
Denyer had to put his navigation skills to the test during the creation of the series that made it difficult to keep some of his relationships afloat, specifically with his family. "I didn't see them very much. I was home for Christmas and I was just so busy editing everything and working on postproduction," he says, noting that he was making poor choices similar to the ones Chase makes on "The Verge."
Despite the fact that Chase gets it wrong, for example, when he doesn't call his girlfriend to tell her he'll be late picking her up from the airport, Denyer says there are ways to make even the worst blunders right again.
"Most of the problems in the show arise because Chase is not communicating with anyone," he explains. "It's all about seeking connection, and if you're struggling with that in your personal life I think that's going to affect, one way or the other, your ability to be a storyteller.
"Don't shut people out," Denyer adds, "especially when you really can't afford to lose them."
Though Denyer says creating the series was empowering for him—especially because half the cast became union-eligible through it—"it's a lot of work and it's a lot of money.
"We know there are other stories we need to tell with these characters, but we're not sure right now," he says. In regard to a second season of "The Verge," Denyer says, "That's a definite maybe!"
Like this story? See more of our Now Streaming articles here!