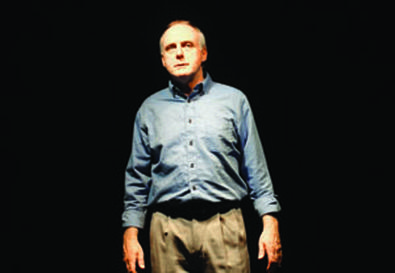 The title of "Via Dolorosa" refers to the Trail of Tears, the street in Jerusalem containing the Stations of the Cross, where Jesus supposedly walked to his crucifixion—and which British playwright David Hare traversed in the course of his trip to Israel, Gaza, and the West Bank. The play, in its Southern California premiere, is a monodrama, written to be performed by Hare. It's a provocative and highly personal account of his attempt to grasp the realities, complexities, and conflicts that have kept the Middle East in constant turmoil. He describes his encounters with Jews and Arabs, Israelis and Palestinians, politicians, artists, and ordinary citizens. And everywhere, it seems, he found irrationality, implacable oppositions, cruel ironies, and deep-seated desire for resolution, all seasoned with large doses of fanaticism.
His imagery is striking: He compares driving from prosperous Israel into poverty-stricken Palestinian Gaza to driving from California into Bangladesh. He expected Israeli settlements on the West Bank to be like embattled frontier towns in the American West, but what he finds are communities resembling Bel Air or Santa Barbara. He describes the disappointed puzzlement of American evangelists who are thrown for a loss to discover so little evidence of Christ in Jerusalem. He finds a dizzying array of attitudes and opinions, but precious few answers.
Actor David Bryan Jackson, nimbly directed by Patricia Willson, offers an urbane, witty performance as the Author and exerts dexterous control of his material, moving easily from complex ideas and narrative description to "scenes" in which he plays out his encounters with passionate and often peppery Arabs and Israelis. With nothing but two chairs and a couple of low tables, he takes us on a fascinating journey to the most hotly and enduringly contested battlegrounds of human history.
Presented by Southern California Jewish Repertory Theatre at Missing Place Theatre, 2811 W. Magnolia Blvd., Burbank. Oct. 1–Nov. 7. Fri.–Sat., 8 p.m.; Sun., 3 and 7 p.m. (800) 838-3006 or www.scjewishrep.org.