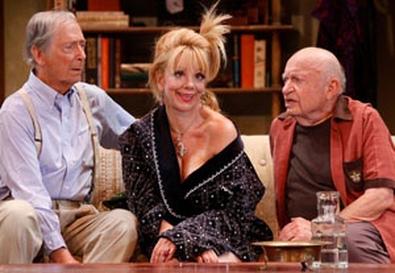 That's not a typo in the headline. Joao Machado and Lou Cutell's ramshackle comedy is indeed titled "Viagara Falls." The correct spelling of the popular sex pill is "Viagra." Perhaps the misspelling is to make the title rhyme with Niagara Falls; perhaps it's to avoid a copyright battle. In any case, the awkward title is matched by the sloppy script. The setup is pure sitcom: Charley wants to celebrate his 77th birthday with hookers rather than with his collection of Sinatra records. He attempts to persuade his lifelong pal and fellow widower Moe to join in the fun, pushing his reluctant friend to sample his stash of black-market Viagra. When the lady of the evening arrives—her friend for Moe was pinched by an undercover cop—the little blue tablets get mixed up with aspirin and a slew of predictable jokes and pratfalls ensues.

Even a flimsy premise like this one can be forgiven if the script at least has some funny lines. But "Viagara Falls" fails even in that department. The gags feel older than the combined ages of the three cast members. "You should expand your horizons," Charley chides Moe. "The only thing on me that's expandable are my hemorrhoids," Moe replies. Another tired example: "I tried sushi once. It was all right after I cooked it." Or how about this one: "I've got the furniture disease," quips Jacqueline, the prostitute. "My chest is falling into my drawers." We are asked to endure these groaners along with an endless litany of moldy witticisms on health insurance, ailments, erectile dysfunction, the Internet, and the size of Jacqueline's breasts.

Director Don Crichton, a dancer on Carol Burnett's classic TV variety series, has apparently learned little from his former employer. Burnett could take the most exaggerated comic creation and give it just the right tinge of verisimilitude. The staging here is as broad as the wisecracks, and none of the characters comes across as a real person, even in a sketch-comedy context. Co-author Cutell reaches painfully for laughs as the randy Charley. TV veteran Bernie Kopell ("The Love Boat," "That Girl") is a whiny bore as Moe. As the voluptuous call girl, Teresa Ganzel, best known for her work on Johnny Carson's "Tonight Show," resurrects stale bump-and-grind routines that went out with Gypsy Rose Lee.

This show has one thing going for it: It boasts the strangest program credit I've ever encountered. Bob Mackie, the famous creator of glitzy gowns for Burnett, Cher, and many others, is given prominent billing for "costume and graphic design," meaning he drew the garish poster and came up with the dull clothes.

Audiences of a certain age might enjoy this mindless exercise in nostalgia and pandering to the senior set. But after five minutes of this hour-and-a-half travesty, I was longing to get home for a rerun of "The Golden Girls."


Presented by Stanley Browne, John Finocchio, Robert Nederlander Jr., and SJ Productions
at the Little Shubert Theatre, 442 W. 42nd St., NYC. Opened July 21 for an open run. Mon., Wed., Fri., and Sat., 8 p.m.; Tue., 7 p.m.; Wed. and Sat., 2 p.m.; Sun., 3 p.m. (212) 239-6200, (800) 432-7250, or www.telecharge.com. Casting consultant: Pat McCorkle.