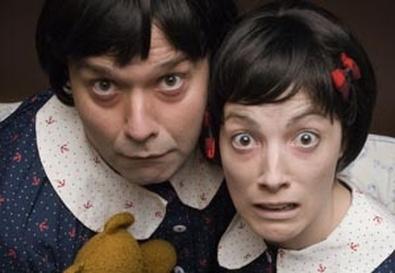 Victor and Victoria, fraternal twins wearing identical outfits, wake up from the same nightmare, in which someone is trying to kill them. They have been left alone by their parents, who have mysteriously disappeared, and to keep from being frightened they play games, which show them to be ghoulish children in the manner of "The Addams Family." Eventually, they read and play the characters from a book they have discovered on the nightstand. It is a sad and gruesome tale of the gothic horrors (cannibalism, live burial, madness, a really bad finger infection) that befall two would-be lovers. But is the book they are reading merely fiction? Or does it describe the story of their own family?
Written and performed by Nathan Cuckow and Beth Graham, "Victor and Victoria's Terrifying Tale of Terrible Things" offers an uncertain mix of the campy and the macabre. It s more clever than funny, better written than performed, more grotesque than terrifying.
Presented by Kill Your Television as part of the New York International Fringe Festival at the Clemente Soto Vélez Cultural Center's Teatro Latea, 107 Suffolk St., NYC. Aug. 13–22. Remaining performances: Wed., Aug. 17, 9:15 p.m.; Fri., Aug. 19, 2:30 p.m.; Sat., Aug. 20, 7 p.m.; Mon., Aug. 22, 5 p.m. (866) 468-7619 or www.fringenyc.org.