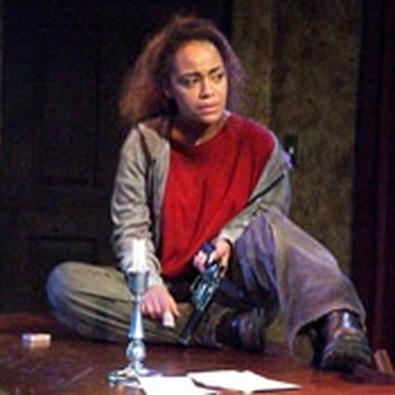 South African playwright Athol Fugard initially found success with his hard-hitting and angry works that explored the gross injustices and horrors of his native country under apartheid, repealed by the government in 1991. His latter-day works have explored the still-rampant problems of poverty and social unrest in the perpetually troubled nation. In Victory, now in its U.S. premiere, the hopes for better days, once evident in Fugard's works, have been almost completely replaced with an overwhelming sense of despair.
Reportedly based on true incidents in Fugard's life, the story begins with a young black thug, Freddie (Lovensky Jean-Baptiste), and his black girlfriend, Vicky (Tinashe Kajese), ransacking the home of wealthy white widower Lionel (Morlan Higgins) in search of cash. When the liberal elderly gentleman returns, he's shocked to discover that the girl is the daughter of his late and beloved housekeeper; he once aided this girl with financial and emotional support. Following the death of his wife, Lionel became self-absorbed in a deep depression and had been ignoring the girl's fervent pleas to protect her from poverty, incest, drugs, and a generally hellish existence. There are no heroes in this showdown between the privileged class and the desperate dregs of an ailing society. The tiny glimmer of hope is in the shared humanity that allows these three individuals to verbalize their resentments and frustrations and reflect on the intertwined history that has ruined each of their lives.
Director Stephen Sachs achieves a brilliant ensemble effort. In a physically meticulous portrayal, Higgins expertly plays a man well beyond his own years. He also masters the regional accent (supported by dialect coach JB Blanc) and achingly conveys the tragedy of a once-powerful but now-broken-down individual. Jean-Baptiste is at once terrifying and pitiable in a performance brimming with intelligence and finely focused energy. Kajese is a heartbreaker as the good girl gone astray, giving a superbly nuanced characterization. The design elements are impeccable. In its taut 60 minutes, this riveting -- albeit hard-to-watch -- drama works as a nail-chewing thriller and fascinating political drama rolled into one.
Presented by and at the Fountain Theatre,
5060 Fountain Ave., L.A.
Thu.-Sat. 8 p.m., Sun. 2 p.m. Jan. 25-Mar. 9.
(323) 663-1525. www.fountaintheatre.com.