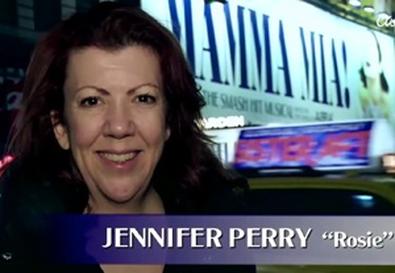 Ever wonder how to raise a family, maintain the fast-paced life of Broadway, and look cool doing eight shows a week? CafeMom, an online community for moms and moms to be, debuted their new online reality show on Wednesday, which gives viewers a peek behind the curtain and glimpse beyond the apartment doors of three moms and one dad who work on the hit Broadway musical, "Mamma Mia!"

"On Broadway: With Kids - Featuring the Parents of MAMMA MIA!," a 10 week series, airs every Wednesday on CafeMomStudio's YouTube Channel. From toddlers to teenagers, the series follows parents Jennifer Perry ("Rosie"), David Beach ("Harry Bright"), Monica Kapoor (ensemble) and Irene Bunis (Wardrobe Supervisor) through their day.

Will spouses make it home in time to babysit during the show? Will homework get done? "Being a mom is really demanding and you have errands and shopping and getting dinner on the table," says Kapoor, mother of a two-year-old daughter. "So I do all those things and then I also perform eight shows a week."

"I knew that [Mamma Mia] would be a job that I would be able to be a parent very successfully while doing," says Beach, father of a three-year-old daughter.

Seen by more than 50 million people from around the world and currently celebrating its 10th year on Broadway, "Mama Mia!" is one of the most successful musicals of all time and one of the top grossing movie musicals worldwide.

The CafeMom Studios channel launched in January 2012 as part of YouTube's Original Channel initiative and offers 14 original shows from "Mom-Ed: Childbirth" to "Your Kid Asked What?!?," whose first episode answers the quintessential question - "How Do Astronauts Shower & Potty in Space?"

Watch the first episode below.