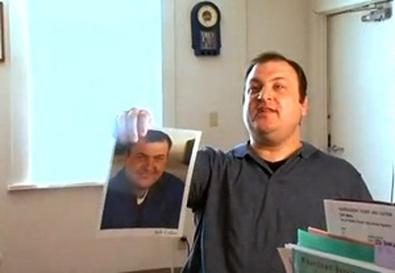 Seth Coltan knows how to lose friends and alienate people. At least, he lost agents and alienated casting directors in his first few years auditioning in Los Angeles, when he thought being pushy, dishonest, and offensive were the best ways to get noticed.

The actor says he eventually realized he "was doing everything wrong" as an intern for casting directors Nan Dutton and Scott David. He quickly learned about proper audition etiquette, the value of professionalism, and the importance of the relationships between casting directors, actors, and agents.

"Casting directors and actors really are on the same team," Coltan says. "Casting directors are rooting for the actors."

Now more experienced and self-aware, Coltan can find humor in the often awkward and uncomfortable situations he got himself into as a young actor. He has turned his horrible audition mistakes into funny sketches for "obSETHed," a web series he created. He even recruited casting directors like Mark Teschner, Michael Donovan, Geralyn Flood, Krisha Bullock, Nancy Nayor, and more to guest star as themselves.

"I knew nothing about the industry when I first arrived in L.A.," Coltan says, "but every morning I would jump out of bed—or the blow-up pool raft on the floor I was sleeping on—so excited for the day. To me, the possibilities were endless. I could be discovered anywhere at any time. I really believed my dreams were about to come true. As far away from reality as I was back in those days, they were the best times of my life."

Watch some episodes of "obSETHed" below, with commentary from the casting directors.

Mark Teschner, CSA in "Generally Hospitable":



Teschner is the casting director for ABC's "General Hospital," for which he has won multiple Emmy and Artios Awards. He says that he participated in this video because it was "hard to say no" to such a creative and unique idea. "It was an example of an actor creating an opportunity, and I really respect that," he says.

Teschner adds that it was not a challenge to play himself on camera: "I mean, who better? Talk about type casting! As for the scene itself, I was better prepared than Seth. I basically carried him on my back. Please tell him I said so."

Geralyn Flood, CSA in "Flood Gates":



"I am not very comfortable being in front of the camera," admits Flood, the casting director for Nickelodeon's "Big Time Rush" and the Disney Channel series "Good Luck Charlie." "But I realized it would be an excellent and relatively safe way to learn what it's like to be on the other side of the camera, and so I said yes, with great fear.

"It was an incredible challenge for me and I have even more respect for actors and what they do," she adds. "It's not just being honest and real in the moment. There were all these technical aspects that actors do that they make look effortless that I had to figure out. I had to remember where I put my hand take after take, and make sure I matched it in each take, while still trying to be spontaneous and present. My shoot was only an hour or two, but I was exhausted by the end. And I was being me!"

Krisha Bullock, CSA in "Heart & Soul":



"I think the most important thing all actors can learn is to have humor and not take themselves too seriously," Bullock says. "Love what you do, have fun, and laugh a lot."

Bullock has been the casting director for many Nickelodeon television series, including "iCarly," "Victorious," "Drake & Josh," and "All That." Have any of her real-life audition experiences matched the scenarios in "obSETHed"? "I once had a young actor vomit at a network callback, all over the conference room floor," she recalls. "He came back in the room 20 minutes later and booked the part."

Tamara-Lee Notcutt, CSA in "Olde English":



"I initially wanted to be an actor," Notcutt says, "until I realized that I was a control freak and didn't like the fact that I had zero control over whether or not I booked the job. In my career now, I get to have a little fun acting with actors in the room and seeing what they can do, with none of the pressure on me."

Notcutt began her casting career as an assistant in London, and has since been part of the team at Randi Hiller Casting in Los Angeles as both a casting associate and casting director. She says the acting lessons in "obSETHed" are very simple: "Don't do what Seth does."

Coltan plans to shoot more videos for the series, and also hopes to develop a TV series around the character. Watch more 'obSETHed' episodes online at obsethed.net.