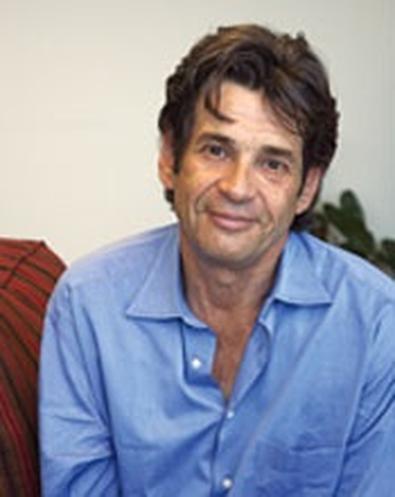 Alan Rosenberg shakes my hand, takes a seat in his office at the Screen Actors Guild's Hollywood branch, and proceeds to tell me about the audition he just got back from that morning. Frankly, I'm surprised to hear he still has to audition or has the time to audition. After all, he's a 30-year veteran actor with credits ranging from the Broadway production of Lost in Yonkers to the Martin Scorsese film The Last Temptation of Christ and such TV series as Civil Wars, L.A. Law, The Guardian, Chicago Hope, and ER, for which he was nominated for a 1995 Emmy for his guest role. More recently, Rosenberg has been busy filling the role of a lifetime -- as the most outspoken and visible political figure representing professional actors today. Not surprisingly, his role as SAG president interferes, at times, with pursuing acting. "I simply find I'm less able to concentrate the way I need to concentrate to do my [acting] well," he admits. "It's just that I've got so many things swimming around in my head."
Rosenberg says he doesn't mind still being asked to read for parts, when he has the time to audition. What he minds is that he and his fellow "middle-class" actors, as he calls his peers, are far more desperate for work now than they were not so long ago. What's changed the landscape he once knew so well? Read on. Asked how he became passionate about politics, the New Jersey native explains that it runs in his family. "I've been passionate about it since I was a little kid," says the actor, who was involved in the civil rights movement and Vietnam War protests before turning his attention to issues affecting performers. As Rosenberg shares, his elder brother, Mark, who died in 1992, was a great influence on him. In addition to being a film producer and former president of Warner Bros., Mark was a prominent civil rights activist. Rosenberg first became involved in union politics as a New York stage actor. He recalls earning his Actors' Equity card as "one of the proudest moments" of his life, and he became even more active in 1981, when he joined the council at Equity, in response to his dissatisfaction with then-U.S. President Ronald Reagan's firing of striking air traffic controllers. In the wake of 9/11, Rosenberg ran for and was elected to the national board of SAG.
He is also involved in charitable causes, including a golf tournament for breast cancer awareness that he and his wife, actor Marg Helgenberger (CSI: Crime Scene Investigation), host annually. And he is active in the fight against ALS (Lou Gehrig's disease). As Rosenberg puts it, "I figured that it wasn't enough just to go out there and audition for plays and try to do sitcoms and movies that may or may not be socially relevant; you've got to do something with your life." As much as he gets heated up over politics and good causes, his first love remains acting, something that he first committed to while in college (Adelbert College in Ohio). He later attended the Yale School of Drama but dropped out in his second year. "I was unhappy with the education I was getting there, and I dabbled in a couple classes since then but basically haven't seen many teachers," he says. "But being in the Yale School of Drama, what was great about that environment was that Meryl Streep was in my class. I learned a lot more from the other students in the class than I ever did from the teachers. Where I learned the most was doing summer theatre and doing showcases in New York and just walking through the world, thinking about things and keeping myself open to the planet. I know that sounds pretentious, but give yourself time and stay open." And although Rosenberg can't tell us yet whether he's decided to run for a second term as SAG president, one thing's for sure, as illustrated in the interview that follows: He's passionately trying to make the most of his time in office and to restore solidarity and strength to this actors' union.
Back Stage: So you still audition for roles?
Alan Rosenberg: Yes, I do. As a matter of fact, I have always enjoyed auditioning.... However, roles like the one I went up for today I used to just be offered. I went to this audition today, and I saw a lot of high-profile actors. Everyone I could think of that was basically around my age and my type was there, which in essence says to me that actors just need this kind of work, which they didn't necessarily five or 10 years ago. Every one of these actors five or 10 years ago would have said, "Offer it to me and I'll consider it," but yet they were auditioning for this job today. And that speaks to me that we are losing our middle-class actors. People are just hungry for work.
Back Stage: What has surprised you most about being president of SAG?
Rosenberg: Well, that basically the day that I took office I'd be hit in the face with all this new emerging technology. It seems to me that this is the most volatile time in this industry's history -- even more so than the advent of television, perhaps. And it's all happened just in the last seven or eight months.
Back Stage: Is there a plan in place for the Guild to tackle this new media and to get fair deals going forward with producers, studios, and networks?
Rosenberg: We're always monitoring that. You know, unfortunately, they always call us their negotiating partners, and they are in many ways, but then they launch these new formats without telling us about it. And as far as I know, when you change the terms and conditions of a contract, you're supposed to inform your partners, and they never do that. So we find out they're doing it in some way, and then we have to arbitrate, and then they want to pay us a lower rate; we want the higher rate usually. They always try to pay us in these new formats based on their old VHS formula, which is what we get on DVDs. And we haven't improved on that formula since 1982. It's just not sufficient. That's why all these actors are auditioning for this role today, because they're not making enough on DVDs to keep their heads above the water.
So we have to catch them at it, arbitrate it, and eventually we'll get our members paid at the correct rate. We've created a joint statement today with the writers' and directors' guilds. We all have the same kind of stake in this new technology, and we're trying to stand firm together and demand that we be paid at the proper rate. But what we're doing is -- for the first time in our guild's history -- we're going to have a Department of Emerging Technology. The person heading that department will try to keep us ahead of this curve, so at least we know what we can expect coming down the road. That will help us have conversations with our employers on how they expect to get paid for these new formats.
Back Stage: What else are you proud of so far in your first term as president?
Rosenberg: I'm really proud of the fact -- and this has been the source of some controversy -- that ever since the Janet Jackson thing at the Super Bowl, the [Federal Communications Commission] has been fining corporations and individuals $11,000 for what the FCC considers to be indecent. Part of what's egregious about that is they've never defined what indecency is, and in this past year they wanted to increase those fines on individuals from $11,000 to $500,000. So I went to Washington, D.C., and Pamm Fair, our deputy national executive director, wrote me a terrific testimony. I testified in front of the Senate committee. This law passed the House of Representatives with only 35 dissenting votes, and it really looked like it might have traction in the Senate as well. Partly due to our efforts, along with people like Jack Valenti and others, we were able to get that [defeated].... I'm proud that we got those fines on individuals pulled from the bill. It was also a revelation to me. I'm very cynical about national politics, and the idea that you can actually walk into a senator's office and speak from the heart and get action on anything is really encouraging to me.
Back Stage: In what ways do you think the members of SAG could be more involved with the Guild or with political issues outside of Guild issues?
Rosenberg: Well, we have a speakers bureau here, and we can hook any actor up with any cause on which they want to speak. I personally have a real problem with our board in not wanting to take any political stands whatsoever. They refused to oppose Proposition 75, which was a clear anti-labor proposition.... I always hear from our board, "We can't support candidates." But if you look at what unions -- our union specifically has been able to accomplish during Democratic administrations versus Republican administrations...it's an irresponsible use of our members' money and their time not to support political candidates and not to oppose anti-labor propositions. It just is. Our lives are much more difficult in collective bargaining, in anything we might want to do -- with the Department of Labor, the Department of Justice -- during a Republican administration. So you can do whatever you want as an individual, but as an institution I don't see how we don't have a political action committee. The Directors Guild [of America] does. They have a political action committee. They support Democrats and Republicans. And it's not just legislatively; it's also the National Endowment for the Arts. Even if you're apolitical, if you want to ply your trade as an artist, it's easier during a Democratic administration. It's much less repressive. So that's a debate that we're going to have in the Guild in the not-too-distant future.
The fact is, every actor, when a microphone is put in their face, should speak out on the issues of the day. Not only every actor, but every American citizen. I don't know what else you're supposed to talk about. The idea that an actor -- suddenly when they've got a microphone thrust in their face -- should defer from talking about politics is ridiculous to me. It's not that we're more special than anybody else; it's that we have access sometimes. And every American should be clamoring for that kind of exposure to get their opinions heard. So people should speak out.
Back Stage: Financial core -- a legal option allowing union members to work union and nonunion work while giving up union benefits such as the right to vote in elections -- is a serious issue facing the Guild. Why is this so damaging to the union?
Rosenberg: I think times are hard. [Actors] are desperate for work. What they're doing is: They're contributing to developing a whole class of skilled nonunion workers, which threatens the life of the union. I think a third of our earnings are brought in by nonmembers -- actors working in right-to-work states or financial-core members or those that are Taft-Hartleyed. And we're contributing to their pension and health and paying their benefits. And they're contributing to weakening the Guild. That's the big problem. If nonunion work was strictly amateur and Screen Actors Guild was strictly professional, it wouldn't be that much of a problem. But especially in the middle of this country, you're developing a class of talented nonunion performers who really do threaten what we do. This nonunion work that these financial-core members are participating in, they erode our contracts, they erode everything that Jimmy Cagney and Eddie Cantor fought for when they formed this guild: safe working conditions, decent pay. And [union] people who choose to work nonunion are kind of just spitting on the graves of those actors who sacrificed their careers and their lives to secure pension and health for us. So to contribute to this growing pool of nonunion work, both inadvertently and advertently, erodes our unions.
Back Stage: What's been the highlight of your career as an actor?
Rosenberg: This. [He looks around his office at SAG]. It really is. I didn't know I would say that. There's just something really moving to me about this. I've got a friend; we've been acting together since the early '70s. He's a middle-class actor struggling like I am. We always get so moved at the beginning of every board meeting after we read the list of deceased members. The next will be Bruno Kirby; my good friend who died the other day will be part of that list. I always get so moved reading that list, more than I would get reading a list of any other group of people that might have died. I know what goes into being an actor. I know what a struggle it is. I know what a commitment it is. I have to face a life of rejection. And actors are just so brave to keep on doing what they do. So I carry that emotion that I feel whenever I read a list of actors who are no longer with us. It also kind of fuels the meaning in this job.
I'm really proud to stand up and fight for middle-class actors that believe in making a living. I don't know what you do when you're 50, 55, 60 years old and you've been doing this your whole life. You don't know how to do anything else, and all of a sudden, because of runaway production and reality television and the inability to negotiate for your salary anymore, you can't qualify for health care. You can't pay your kids' tuitions.... I mean, we all know when you get into this business that there's a real risk and you may be relegated to a life of poverty, but there was a reasonable expectation that if you got lucky and you kept yourself prepared and you worked enough, you could have a life. You could have a house. You could have a family. You'd have some leisure time. And that's just not the case anymore. And it really disturbs me. So I believe it's the highlight: being able to stand up for all my friends and try to help keep their heads above water.
Back Stage: Do you see anything on the horizon that can improve actors' plight?
Rosenberg: We need a tax incentive program [in California]. We have a healthy tax incentive program in New York now, in Louisiana. We need to bring production back to this country, if not to the state of California. It's tough. You'd think our governor [in California], who's a member, would have a sympathetic ear. And so we're going to keep on working on that. We keep on looking to see what subsidies Canada and other countries are giving that violate our trade agreements.... That's a delicate thing with tax incentive programs; I'm a little bit wary that what we're going to do is end up having a civil war between states trying to take production away from each other, and that won't be good for actors either.
I loved the time when you used to go on location if it were artistically demanded by the project. Let's go to the French Riviera because that's where the movie takes place and we need those locations. That made a lot of sense to me. To go to Vancouver because you can make it look like Pasadena makes no sense to me whatsoever. It shows in the product. That's one thing that people have lost sight of in this business: the idea of doing good work. I can tell you what show has been shot in Canada in five seconds after it comes on the air. God bless Canada. God bless all our brothers and sisters who are acting up there. It's just not the same quality as you get here in the States. And the idea of doing anything with quality has just gone by the wayside now. It's all about the bottom line, and that's unfortunate for everybody. And it's killing our actors and the people who work on the crews.
Back Stage: With so much infighting that's gone on within SAG for so many years, how do you plan to further reach out to your critics within the Guild, particularly in the New York branch?
Rosenberg: Michelle Bennett, one of our executives here, she's fantastic; she always tells me before I make a speech in front of the board, "Enough with the unity talk." I talk about it at every meeting. It's not that she doesn't like the message; it's just they've heard it a lot. But I think you've got to keep pounding people over the head with it.... It's a little like the Israelis and Palestinians. You think you have things settled down, and then any insult or perceived insult and you've got a firefight going on. So you have to stay on top of it constantly. You have to pay attention to everybody's needs.
We had a way of negotiating things internally in the Guild before that just never worked. Every single thing that came down the pike was a firefight between New York and the branches. And so what we've got to do is think about it in a slightly different way.... We've all got to listen to each other and compromise. That's really what I'm after. Besides wanting to stand up for my middle-class-actor friends, I sat on the board for three and a half years and just saw how we didn't get anything done on the members' behalf. We just wasted time and money. We had these stupid internal fights.
We have to have unity in order to do anything in negotiations. I was fortunate this year with our basic-cable negotiations; I was able to sit down with [Warner Bros. executive] Barry Meyer and [Viacom/Paramount consultant] Bob Daly, two guys I admire a great deal on the employers' side. It became clear to me that they perceive us as being split down the middle, 50-50, and therefore dysfunctional. It doesn't matter to them...that the majority of Hollywood actors feel this way and the other actors in Hollywood, New York, and the other branches feel [another way]. They don't see regional divides; they just see the fact that we can't get our act together because we're split right down the middle. So you have to change that perception. You have to in fact be unified and be able to give up sometimes and not win every single battle.
So that's what I've got to do, is just keep talking about it, time and time again. And maybe weed out some people who are in the system who are entrenched in the old ways and who have something invested in carrying on these internal struggles. We have those members on our board. Now, in my second year of my term, I think I have a much better sense of who works well in those capacities and who doesn't. I think changing committees around a little bit might please some people in New York and the branches and in Hollywood.
Back Stage: What do you hope to accomplish in the second year of your term?
Rosenberg: Everything in my two-year term leads to the big TV-theatrical negotiation in 2008. If I could get this guild united in just these two years, that would be a huge accomplishment. I'd be very proud of that. The other big goal is to end these jurisdictional battles with [the American Federation of Television and Radio Artists] and find out a way to either coexist with them or, as we say, get all the actors under one roof, because in negotiations [AFTRA is] a constant threat to us, like Canada is a constant threat to us. So we have to find a way to deal with AFTRA. John Connolly's a friend of mine, and I love all the actors in AFTRA, but it was very difficult for us negotiating this basic-cable agreement. It was all about residuals -- very difficult to do when AFTRA is offering contracts at 80 percent of our rates with 10 free exhibition days. And I understand why they do it, I guess, but we've got to stop this. It doesn't serve actors. As many members on our board would say, you've got to stop defending the institutions and start thinking about what's best for actors.
Also, to solve the problem with agents, that's a big goal of mine over the next two years. It's a tough one because I'm not so sure they're that anxious to solve the problem. I'm not even sure the powers that be at the [Association of Talent Agents] understand what's going on out there. I get letters from background performers, hand models in San Francisco, who are being charged 25 percent commission by their agents. Maybe it's tough for those agents to make a living up there, but I'm not even so sure the ATA understands that these are ATA agents that are out there doing that. And maybe, at the very least, we can get them to police these general service agreements. So we've got to figure that out as well.
Back Stage: How did you get your Screen Actors Guild card?
Rosenberg: Well, my first union card was my Actors' Equity card. I loved acting on the stage, and the play I did to get my Actors' Equity card was a great play called A Prayer for My Daughter, which did great things for my career. It just meant so much to me to get it and to be doing plays that were really worthwhile. It was a very heady time for me. How I got my Screen Actors Guild card was: I got cast in the movie Born on the Fourth of July -- but not starring Tom Cruise -- starring Al Pacino 10 or 12 years before they actually made the movie. We rehearsed it for a month in New York. Al Pacino walked off the film, and it was canceled. But on my way to go to Mexico to film it, I came to Los Angeles to visit my brother, and while I was here I got a role on a Barnaby Jones [episode], and that was the first union job that I shot in front of a camera. Then I came back to New York and got cast in the movie The Last Temptation of Christ with Martin Scorsese. It was a great cast, and I was all set to go to Israel to film it, and then that canceled because of a protest from the religious right. This was also 12 years before we ended up filming that movie. So my first two [film] jobs were both canceled.
Back Stage: Is there anything you learned along the way during your own struggles that you can share as advice to other actors?
Rosenberg: Believe in yourself. If you have a strong voice inside of you telling you, "Do what you're supposed to do," believe it. Don't give yourself a limited amount of time. Don't say, "I'm going to try this for a year or two," and get discouraged after that length of time and give up. You know, it took me three and a half years of driving a cab in New York before I got my first meaningful job and then another year and a half or two years after that before I got my first movie. And I always believed in myself.
You've got to keep yourself busy, whether it's taking class -- although you've got to get yourself a good teacher -- or by doing plays. I did lots of plays for no money while I was driving a cab. And keep yourself open. Don't get so entrenched in looking for work as an actor that you ignore the rest of the world.... Anything that you do on this earth helps you become a better actor, whether it's traveling, whether it's having a relationship, whether it's going to college. So you've got to use all that in your work. Traveling is about acting, keeping your eyes open and observing and feeling things. It's a lifetime commitment.
SAG President Alan Rosenberg will be
interviewed live at Actorfest LA, Sept. 16. For more information, visit ActorfestLA.com.