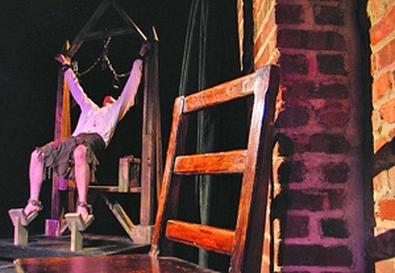 Just when you thought archaic forms of torture had lost their sex appeal, playwright Crystal Skillman unearths a particularly brutal form of coercion in "The Vigil or the Guided Cradle." Named for the device in question, Skillman's usually canny play cuts a jagged swath between drama and thoughtful discourse on the topic of torture.
The first chunk of the narrative is set in present-day Prague, where a foreign stranger takes a seemingly naive American tourist hostage. The meatier portion of the action takes place in a 16th-century torture chamber, where the newest employee is an intense Sicilian named Ippolito. Temporal mechanics eventually give way, with actors doubling roles indistinctly and even interacting with anachronistic abandon.
Yet the bewildering extremities of Skillman's script hang together capably, largely thanks to the tight direction of John Hurley, the company's artistic director, and the textured performances of Susan Louise O'Connor as the tourist and Christian Rummel as Ippolito. When we first meet the glowering Ippolito, Rummel renders him as the sort of brooding monster who could unquestionably invent a form of torture or two. But when Ippolito's superior asks him to turn his violent practices on a young girl the boss has impregnated, Ippolito's resolve buckles. Rummel handles the scene with dexterity, as does O'Connor, who briefly plays the girl. O'Connor brings an appealingly restless energy to her primary role as the tourist, exemplified in her endearing reaction to an unseen mechanical clock as it springs to life.
The vigil or the guided cradle itself is a sinister-looking contraption, as reconstructed by set designer Sylviane Jacobsen, in which a chained prisoner must force himself to stay awake and aloft or else collapse onto the unfriendly spike positioned beneath him. Hence the alternative names: A prisoner must either keep a waking vigil or sleep on the vicious cradle.

Presented by Impetuous Theater Group and the Brick Theater at the Brick Theater, 575 Metropolitan Ave., Brooklyn, NYC. April 24–May 8. Thu.–Sat., 8 p.m.; Sun., 7 p.m. (212) 352-3101, (866) 811-4111, www.theatermania.com, or www.impetuoustheater.org.