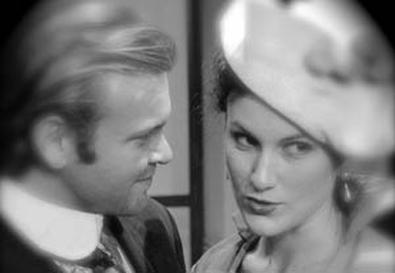 Could the possible ability to see the future help change it? Richard Greenberg's 2003 dramedy poses this question (and others) in the tantalizing form of a roman à clef wherein various giants of the 1920s (Maxwell Perkins, F. Scott and Zelda Fitzgerald, Josephine Baker) are sucked into the vortex created by a mysterious machine that spits out hundreds of manuscript pages of Jazz Age histories written and published many decades later. Once these characters are able to see how they'll be regarded by posterity, can they alter outcomes that have seemingly already been written?
Sharyn Case's imperfectly cast and imperfectly acted staging takes an even hand to the proceedings, approaching things not as comedic or dramatic but simply as true life. As the Perkins-ish young editor, Adam Hale is more than a tad too bland. Sure, he's cool and elegant, but the performance lacks shadings. As the college buddy desperate for his humongous, unwieldy first novel to be published, Alex Walters is goofy-corny when what's needed is the author's passion and sense of his self-importance. Closer to the mark is Doshanna Bell's Jessie, the beautiful black singer intent on seeing her memoirs published—though, like Hale and Walters, she fails to deliver the character's grandeur and sizable ego. Better still is Caitlyn Tella's Zelda-like Rosamund, mixing mental and emotional frailty with charisma, charm, and an ultra-affected finishing-school style. Sean Gray takes hissy fits to new heights as the editor's hapless cipher of an assistant, reveling in fits of pique that function more as change of pace than comic relief.
Like the language-loving Greenberg's other plays, this one is enjoyably literate, as the strange machine introduces a semi-science-fiction element to the story's violent clash of the thoughtful with the archly comedic. We don't see much of the blizzard of paper the machine creates, but Greg Fritsche's art deco set design and Donna Fritsche's elegant period costumes are among the staging's finest assets.
Presented by Long Beach Playhouse at the Studio Theatre, 5021 E. Anaheim St., Long Beach. July 2–Aug. 7. Fri.–Sat., 8 p.m.; Sun., 2 p.m. (562) 494-1014. www.lbplayhouse.org.