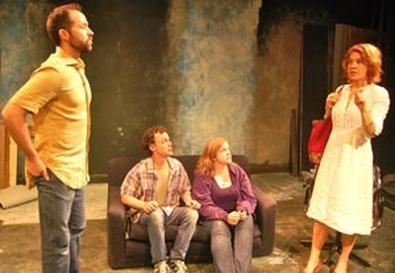 Playwright Mac Rogers, thankfully, doesn't shy away from following through on the promises made in his new play "Viral," about a suicidal woman (Amy Lynn Stewart) and the three people who want to assist her death—provided they can film her final breaths for other voyeurs.
Blessed with an unflinching script and a quartet of very funny performers, the play begins as the blackest of comedies before transforming into an uncompromising look at how we choose to live. Stewart and Rebecca Comtois, as the dim but sweet Geena, turn their characters' chatter into gold, ably supported by Kent Meister as the bossy head of operations and Matthew Trumbull as Geena's bumbling brother. Jonathan Pereira, displaying the verve of a B-movie hustler, pops in briefly as a snuff-film distributor.
But as funny as "Viral" is, it's Stewart's harrowing monologue about the courage it takes to recognize one's weaknesses that will haunt you for days afterward.
Presented by Gideon Productions as part of the New York International Fringe Festivalat the SoHo Playhouse, 15 Vandam St
.,
NYC
.
Aug. 15
–
26. Remaining performances
:
Wed
.,
Aug. 19, 3 p.m
.;
Sun
.,
Aug. 23, 10 p.m
.;
Wed
.,
Aug. 26, 9:45 p.m
.
(
866
)
468-7619 or www.fringenyc.org
.