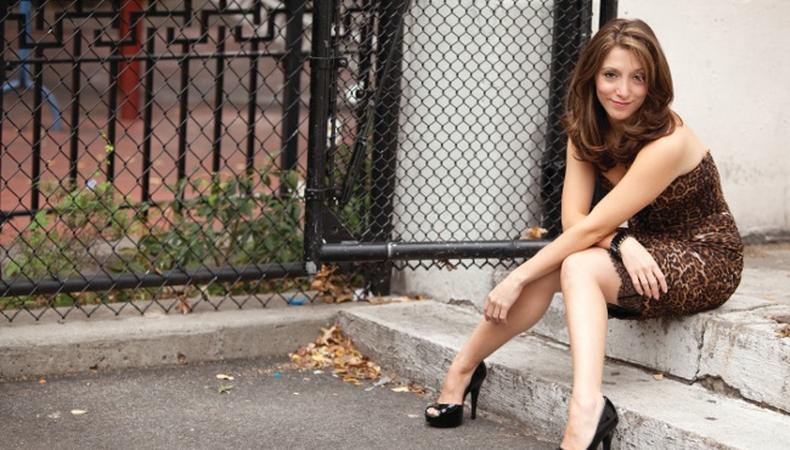 A YouTube sensation for her spot-on impressions of divas and pop stars, Christina Bianco is now playing over 40 characters in Greg Edwards and Andy Sandberg's "Application Pending" at Westside Theatre.
On "Application Pending."
"It is a one-woman comedy about a woman named Christine, and it's her first day on the job as a kindergarten admissions officer at a very hoity-toity New York private school. She was a kindergarten assistant earlier that morning but due to a strange turn of events she is suddenly thrust into this new position and dealing with all the crazy parents who call, her crazy co-workers, and the bits of her life she's trying to hold together. And it's nonstop phone ringing, so I play the woman answering the phone—as well as everybody who calls. It's a fun look at the very competitive world of kindergarten admissions and what a lot of people will do to get their kid into a good school these days."
On juggling so many characters.
"When we did the first reading I said, 'This is really hard but really fun.' I'm really grateful for the opportunity. I've never done anything like it. It's a lot of work that I don't have a frame of reference for learning. Usually I'm the star student. I show up on the first day of rehearsal fairly memorized; I go home and do my homework, I really like to be comfortable with the text before being in the rehearsal room. And in this instance that was impossible. A lot of scripts have a complete through-line; here, I have nobody giving me a cue. I am giving myself a cue. If I'm wrong as one person I will be wrong as another. Really, I can't afford for anything to go wrong because it would unravel the entire plot of the show. The other thing is I don't get a break! Typically you get to go offstage for at least five seconds and get a sip of water and maybe think about what scene is next. Here, I'm onstage the entire time and it's kind of daunting. Exciting but daunting."
On differentiating her characters.
"You take those generalizations, those stereotypes, and go, Why is that person like that? I made sure I knew enough about them, creating a history for each person so I can [avoid] doing a stereotype and build some color into them to inform not just their voice, but how they sit, their facial expressions. So I can take these characters who only appear for a short amount of time and give the audience something to remember. If they're one-dimensional they're all going to blur together and no one's going to know or care about what's going on. In a comedy like this it's a balance. Some characters are a bit cartoonish, as some people in life are cartoonish. We choose to up the ante on some of those cartoony characters. The nice thing about this play is although a lot of it is ridiculous, we know it's happening. If it's completely out there and something not many people can relate to, then I think the humor would be lost. Part of the humor is we all see a little bit of ourselves in these characters—whether we like it or not."
On musicals versus plays.
"['Application Pending'] is a very different thing to tackle at this point in my career. It's taking everything I've previously done with characters and voices and taking it up a notch. I like the fact there's not singing in this. I'm known for singing and I love to sing but I'm also an actor and it's nice to get to do something that exercises that part of what I do. I appreciate that because it's difficult for a lot of musical theater actors to do plays. Very often they sort of get typed into, 'OK, you're a musical actor.' "
On the advice she gives actors.
"My advice would be this: Get out there and do your own thing. I have been able to have fun doing what I love because I love it, not because I waited for the phone to ring or somebody hired me. I try to be productive and present. If somebody asks me to do an event I jump up and do it. Having a little bit of a presence on YouTube and social media and having a following—it certainly does not hurt other areas of my career; one doesn't exclude the other. Just because you're doing cabarets or putting together shows with friends or shooting student films doesn't mean you can't do other things. So you have to think outside the box a little bit and create opportunities for yourself. If you think something is a good opportunity, it probably is. The people you meet on projects will give you the opportunities in the future. It's a smaller business than we all would like to think it is. And the connections you're making will last."
Like this story? Read more of our Spotlight On interviews!