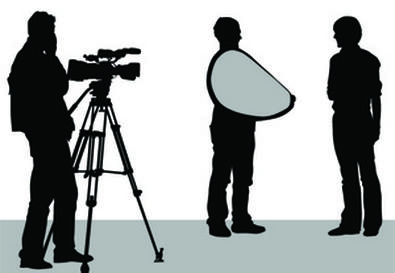 In this era of pocket-sized video cameras and "Star Trek"-esque PDAs, it's easier than ever for actors to be proactive about their careers. But does this brave new world extend to never leaving your house for an audition? After all, today's technology enables you to tape yourself in the comfort of your own home, then email or upload the result for a casting director's viewing pleasure.
Feelings in the industry are decidedly mixed—but "virtual auditions" seem to be popping up more and more.
"It's not like it's a formal part of the process as of yet; it's just sneaking in," said casting director Michael Testa ("Cold Case," "Make It or Break It"). "When I release a breakdown, people call sometimes and say, 'Do you mind if so-and-so puts himself on tape?' and I don't mind at all. I've been getting more and more of that as time progresses."
Added casting director Dorian Frankel ("Parks and Recreation," "Curb Your Enthusiasm"), "I definitely use them: If it's a good audition, it's a good audition. I think it makes a lot of sense. I assume as the technology gets better, the more it will happen. It seems like something that's time has come."
For now, the situation seems to come up most often when an actor is out of town or can't make the regular audition session. "We just hired somebody for an episode of 'The Whole Truth' who was in Panama," said Testa. "He was available for the episode, but he was working until a certain date, and he just put himself on tape. I looked at it; he was great. I passed it along to the producers, and they loved him. But it was someone that I had requested to see beforehand—it wasn't a random submission."
OLD SCHOOL
For the most part, casting directors still prefer to eventually see you in person, even if a tape is what gets you that initial meeting. "I think you want to see a three-dimensional person and see how they behave," said casting director Mark Saks ("The Good Wife," "Medium"). On tape "the image is very small, and to me it's very flat and never well-lit, and the sound is never great. But people love being able to see that as a reference point."
For the actors, the experience of putting oneself on tape can lead to just as much stress as an in-the-room audition. Actor Henry Dittman, whose credits include "Brothers and Sisters" and "Two and a Half Men," said submitting taped auditions feels a bit like "putting messages in a bottle and throwing them out to sea."
"On one hand, I do blogs and vlogs and I've cut tons of video together, so for me it's fun to get hands-on and produce something and get excited about it and send in the audition," he explained. "But when it's all said and done and you send the thing off and you have no way of knowing if they're actually going to watch it, it can be tremendously frustrating."
Dittman also noted that there's a key component missing from a home audition: the direction and feedback of a casting director. "Good casting directors can really get to the place where you need to be," he said. "They understand where a role is supposed to fit in, the tone of what you're supposed to do. For those of us that cross genres and do commercials and voiceover and movies and TV, there's a time where you really need someone there who will really gauge your size and your style. They know exactly what it is you need to do and can help you."
Testa agreed: "The disadvantage is the actor doesn't have the advantage of what the casting director knows about the role in the room. And we don't get to see them in a room to see if they're physically right."
That said, Testa can also see the upsides to virtual auditions. "It's convenient and time-saving for me," he said, "and the actor gets to maybe explore and do the additional [work] until he feels comfortable with it."

THE HOW
If you are taping yourself at home, keep a few things in mind. First off, make sure that all your technical elements are as polished as they can be. "Use the best possible camera you have access to, the best possible lighting, and the best possible sound," said Saks. "Certainly a body mic helps, as opposed to a mic that's attached to the camera, because often the reader overshadows the auditionee and all we're hearing is the reader."
Frankel advised actors to do a few takes, then "watch them and pick a good one. Don't just do it once and send it off. And do a shot that's head-and-shoulders, unless we for some reason need to see your body. It's easier to get a sense of a person if it's a closer shot."
As for preparing the material, much of the advice is the same as it is for in-the-room auditions: Be off-book, know the tone of the project you're trying out for, make strong choices, and connect with the material. Saks also suggested a waiting period before you hit "send." "Put it away for five, six hours and then look at it again," he said. "You have to be present and in the moment when you're going through the process, but hours later you can be a little more objective."
There are a few services available that allow casting directors to invite actors to audition via the Internet. These include Eco-Cast, operated by Breakdown Services, and Casting Workbook. BackStage.com allows its subscribers to submit video auditions to casting directors by uploading videos to their BackStage.com résumé or embedding their videos from other sites such as YouTube.
Ultimately, most casting directors and actors don't see virtual auditions taking over entirely; instead, they may just become a part of the established process. "In a lot of ways, it's similar to an associate putting a group of people on tape, and the casting director looks through and sees who they want to see in person," said Testa. "It's a different version of that."
Added Dittman, "Are we going to get to a point where my manager is being contacted to put myself on tape and send it in and they're just casting off that tape? I don't think so. I think the quality of the industry would plummet from the removal of the casting director in that process."
In other words, the ability to do a quality self-taped audition is a good tool for your arsenal, but it shouldn't be something you rely on exclusively. "I think the beneficial thing about taped auditions is you can now become available for a lot of different things that are shot other places if you have the gumption to do it yourself and send it in," said Testa. "Just make sure you approach it as professionally as you would approach any audition."