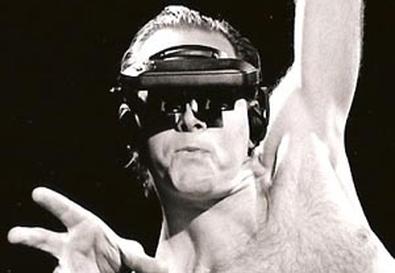 How is virtual reality changing our idea of reality? Dawson Nichols tackles the question in "Virtual Solitaire," for which he is writer, director, and one-man cast. Although technology has evolved exponentially since the play's premiere in 1997, Nichols suggests that its isolating effects have endured—or increased.
With its own techno-babble language, "Virtual Solitaire" is an initially impenetrable tangle of words, but the confusion gives way to a captivating stream of ideas, scenarios, and atmospheres, thanks to Nichols' masterful ability to embody a character. His parade of outcasts and lonely souls—a senior citizen, a death-row inmate, a hermit with a grudge—is a wonder, and the uncredited but effective lighting transforms the blank stage into a series of distinct environments in which they roam. Although the play contains too many competing threads to offer a coherent idea of our relationship with technology, Nichols' performance leaves you with a disquieting feeling that lingers in the mind.
Presented by Mycelium as part of the New York International Fringe Festival at the Players Theatre, 115 MacDougal St., NYC. Aug. 17–26. Remaining performances: Sat., Aug. 20, 2 p.m.; Tue., Aug. 23, 2:30 p.m.; Thu., Aug. 25, 4 p.m.; Fri. Aug 26, 6 p.m. (866) 468-7619 or www.fringenyc.org.