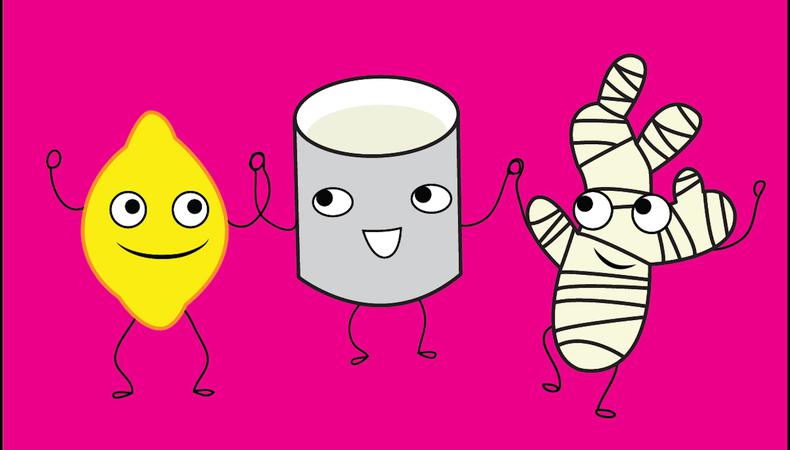 When asked about vocal care, "Hamilton" star Renée Elise Goldsberry says, "You just have to know your body." The Tony Award–winning actor, like most Broadway stars, has more than a few tricks up her sleeve: "I'll take a shot of apple cider vinegar before I go to bed or if I feel like something's going on with my throat. And I do those wellness formulas, a couple dollops in water, just to try to keep healthy. A little ginger sometimes—but that's only when I feel like something's going wrong."
The various remedies, formulas, and potions used by Broadway's best are part and parcel of their top advice: know your instrument. It takes guts and stamina to perform on New York's biggest stages eight times a week, but more important, it takes self-awareness. Vocal cords are subject to a myriad of variables—overuse versus underuse, air quality, how they're feeling in a given moment on a given day—and staying mindful will help singers eat and drink what they need.
Three-time Tony nominee Christopher Fitzgerald, currently starring in "Waitress," says certain vocal curatives suit certain roles—particularly ones that involve shouting. "It really depends on the show for me," Fitzgerald explains. "It's about being aware, finding that balance of awareness about yourself. Because it's going to be taxing. You have to figure out how to repeat that eight times a week. That's going to be your responsibility and yours only."
"Everyone's instrument is different," says Broadway actor, singer-songwriter, and voice coach Kacie Sheik. Her young students at Broadway Artists Alliance, she explains, learn every day which "potions or mixtures" fit their voices and which don't. "What works for one might not be the best case for someone else. It's best to expand and try different things."
READ: "Jessie Mueller's 3 Tips on How to Sing Like Sara Bareilles"
What sort of things should singers try? "I love a good ginger-lemon-honey mixture in a tea—I like a light caffeine, like green tea—and you can sort of mix your own," Sheik says. "Honey, lemon, ginger: those are bankable." Many Broadway singers deploy lozenges, she says. "The community loves Grether's, and there's a sugar-free option, which is great. Ricola is good. Slippery elm is a great one."
Saycon Sengbloh, a Tony nominee for last season's "Eclipsed," drank so much slippery elm tea growing up doing theater that she can't stomach it anymore. "I got to this point where I hate slippery elm tea," she says with a laugh. "A lot of people drink it, there's nothing wrong with it." During Broadway's "Fela!," Sengbloh learned a secret from co-star Lillias White: "A little ginger and pineapple. She'd be back there, slicing pineapples! Something about it is anti-inflammatory."
If there's one thing every Broadway actor can agree on, it's water. "My potion is vocal rest and water," says Sengbloh. "I have a really cute, chic humidifier." Goldsberry and Fitzgerald guzzle water before and after each show as well. "Drinking water and steam therapy is excellent for warming up," advises Sheik. "Personal steamers you can buy even at drugstores." She also steams during showers, using natural oils including eucalyptus.
Eight shows a week means checking in with one's instrument constantly. "You have to sort of ride your day if you're on a show schedule," says Sheik. "You have to warm up, get your mind, body, and voice working during the day—just enough to get ready for the performance." Use voice teachers to help keep tabs on you, she adds. "I check in with my coach, whether I have a piece coming up or just a vocal checkup. After 15 years, Neal Tracy probably knows my voice as well as I do."
Through trial and error, she says, performers can learn which recipes help keep their voices in shape. "You can sort of click back and think, What did I do, what was I drinking or not drinking? If you're sensitive to dairy, maybe minimize it. If you're sensitive to caffeine, cut coffee out. A happy heart has a happy voice!"
Warm up your voice and check out our Broadway audition listings!
Want to sing like a Broadway star? Check out this video: