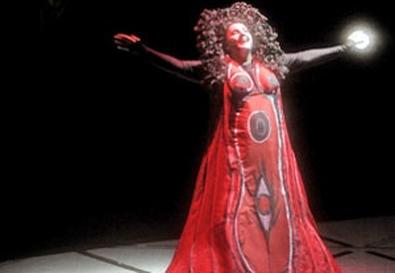 The ability to suspend disbelief has always been the operagoer's stock-in-trade. You have to be able to squint just right to imagine that the 40-something soprano who could best you at arm wrestling is a callow, put-upon waif.
Or that the wooden tenor with the spindly legs has the charm to make those comely village girls swoon in their dirndls. Sometimes the magnificence of the voice alone will prime your imagination. But sometimes, beautiful notes are not enough.
The opera world surely felt vindicated, then, when Brazilian-born baritone Paulo Szot won the 2008 Tony Award for best actor in a musical for his performance as Emile de Becque in the Lincoln Center revival of Rodgers and Hammerstein's "South Pacific." Like Szot, many of today's opera stars pride themselves on being fluid, believable actors. Back Stage spoke recently with Szot and others about how they have developed the acting side of their craft, how they build characters, and how they balance the musical and dramatic demands of their performances.
Aria experienced?
Some star performers in opera have little real background or training as actors. "Singing teachers teach mainly singing technique," explains Szot, who studied voice in Poland. "You learn acting by observing people around you. I was never formally trained as an actor. I spent a lot of time asking for help and advice from actors and directors I admire."
Celebrated Wagnerian soprano Linda Watson (Brunhilde in Los Angeles Opera's 2010 production of the "Ring" cycle) notes that her singing teachers emphasized the importance of operatic text—and applying one's imagination to interpret that text. But her acting lessons were by no means exhaustive. "I had acting classes at New England Conservatory back when, but they were not concerned with learning a role," she says, but with developing "stage presence, doing games and acting exercises to bring you out of your shell." Like Szot, she largely "learned by doing," and by observing the artistry of older, more experienced singers.
Performers with some sort of formal physical training seem to have an advantage when it comes to acting. "My dance training gave me an awareness of my body," says Szot, who studied ballet in his youth. Similarly, Indiana-born baritone Nathan Gunn attributes his comfort on stage to "having played a lot of different sports, where you had to know what your body was doing."
As an undergraduate at the University of Illinois, Gunn focused not on opera but on singing German lieder. It wasn't until he participated in the Young Artist Development Program at New York's Metropolitan Opera that he became a singing actor. One of his teachers at the Met, Stephen Wadsworth (who has directed for theater as well as opera), gave him basic acting strategies, teaching him to break a dramatic situation "down to its essence," Gunn says, "to relate it to something really concrete in my life and then build it from there." (Wadsworth recently directed his former student in the premiere of Daron Aric Hagen's "Amelia," at Seattle Opera.)
Soprano Angela Brown, who this month plays Serena in George Gershwin's "Porgy and Bess" at the New Jersey State Opera, had a somewhat unusual career path. She came to the opera stage from musical theater, beginning in high school and then in productions with the Indianapolis Civic Theatre, where, in "Miss Moffat," she worked with Ginger Rogers and director Joshua Logan. "If it wasn't for my musical theater background," Brown says, "I don't think I would have done very well with opera, because I wouldn't have known 'upstage,' 'downstage,' all the things you need to know. 'Stay in your light.' I know how to stay in the light, child!"
Words and music
When opera singers prepare a role, they use strategies familiar to nonsinging actors. Brown regularly creates backstories for her characters. For her star-making turn in the title role of Giuseppe Verdi's "Aida," she imagined what the character had done on the morning of the day she was taken into bondage. Preparing to play astronaut Buzz Aldrin in Jonathan Dove's TV opera "Man in the Moon," Gunn visited the Johnson Space Center in Houston for research.
Musical preparation takes precedence for some opera singers. "For me, the preparation comes in two stages," says Szot. "I learn the music, which sometimes—as in the case of Shostakovich's 'The Nose'—is an extremely time-consuming part of the process. Once I feel confident with the music, I begin to layer in aspects of the character and build on them, being informed by the music I have just learned."
Watson also talks about building the character by adding and subtracting layers. But unlike Szot, she doesn't start with the music. "I always approach a role from the text first," she says. "Always. I then put the text to the rhythm and look into the actual physical language of the character that way. It tells a lot about the character. I then sing through the role, putting it all together."
Sometimes the music can lead a singer toward dramatic discoveries. In the second act of "Aida," says Brown, "you hear this syrupy-sweet music, where Amneris is trying to win Aida's confidence. But then you always hear this bump-bump-bump-bump-bump. And that, I think, is Aida's heartbeat and Aida's suspicion against Amneris."
Opera performers tend to work long and hard on their roles in seclusion before meeting with the director for a relatively short rehearsal period. Sometimes a singer needs to rethink the character as the first performance approaches. As he prepared the part of Prince Andrei in Sergei Prokofiev's "War and Peace," Gunn discovered he could not portray the prince as Tolstoy had depicted him. "The guy was a nihilist, you know, and somewhat passionless," Gunn says. "To play that on stage is really boring, so I had to reinvent a little bit and move away from what I understood of the character from the book."
Different directions
Directors who work in opera have a lot on their minds. They must think about elaborate stage pictures, how the stars will be showcased, where the choruses and supernumeraries will enter, and—in the case of an opera like "Aida"—how to keep the horses and camels from upstaging everything and everybody.
Some of the performers we spoke with recounted positive experiences with directors. "They have difficult jobs in building a show's technical life and supporting the actors," says Szot. "I have been lucky enough to work with directors who balance this well."
Watson, on the other hand, has—especially in recent years—encountered directors who do little to help the actors develop their roles. They come to rehearsals ill-prepared, she says, with little notion of what they want to create on stage. "They show up and do not even know the score," she adds—speaking, it seems, literally and figuratively. "Many directors are focused on the visual. This is not a bad thing. But to only be involved with the picture and not the story is changing the face of opera, and not for the better." So Watson has hired acting coaches to help her out when a director has not given her the feedback and support she needs. She has also employed such help when preparing for auditions.
For Gunn, the ideal director assumes a "sounding board" role. Wadsworth, he notes, takes exactly this approach: "He can say, 'Yeah, I kind of know what you're doing there, but I think if you do such and such, it'll make a little more sense.' "
Catching a breath
Once performances begin, the structure of the production necessarily tightens, proceeding with almost metronomic precision. The pace of the music dictates that there will be few if any improvisational acting tangents. In the opera world, the play may not be the thing. Not at every moment, anyway.
"With opera, you're always thinking about the integrity of the voice, as well as the acting," says Brown. "And sometimes the actor can go by the wayside, because people are 'worried about them high notes,' you know what I'm saying? You can get some stiff sticks up there! But I try to always make sure that I know how to get through those difficult passages and still stay within the character. Sometimes you're like, 'Okay, I just need to stand here at this moment and just sing this note and then get back in it. Because I'm scared—I'm about to pee!' "
During a performance, Gunn says, he tries to remain focused on the acting at least 95 percent of the time, but if he manages 90 percent, he's satisfied. "You have to check in vocally every once in a while," he explains. "Or you have to check in with the conductor to make sure you're actually singing at the right time. You have to make sure you hear correctly. Every once in a while, when things fall apart, you have to flip into musician mode and start to count."
You also have to deal with actors who may not be as prepared or as talented in the acting department as you are. What happens when you're paired with a singer who can't or won't give you what you need as a scene partner? Faced with this scenario, Gunn attempts to make eye contact with his partner. This will sometimes help the other actor focus on the dramatic moment rather than on the quality of the sounds coming out of his or her mouth. "If the director is good during the rehearsal process," Gunn says, the problem "can be addressed, and hopefully you can work around it."
Brown has worked with partners who have nearly mauled her during an emotional scene and with others whom she has needed to assure that "it's all right to handle me a bit." When other singers fail to make a connection on stage, she says, "you need to just go ahead and do what you need to do—play that role, play that part, work with it." More often than not, she has found, taking the lead in this way brings the performance level of mediocre actors up a few notches.

Crossover dreams
Though opera is known for its thunder-cracking bombast, there are also moments of quiet intimacy. Making those sequences understandable to those standing in the back of a cavernous opera house yet believable to those sitting in the front rows is one of the opera singer's greatest challenges.
Watson finds that "you need to create a quiet space" around an intimate moment in opera, much as actors in a play would. "We don't have the luxury of stealing time as they can," she says. "We have the music driving us on. But there is still a way to do it with focus."
"Opera is a megashow!" says Szot. "Many times you are sharing a stage with other principals, a huge chorus, supers, set design, visual effects. In these moments, if you are not playing 'big,' you just disappear among these elements. I fight to find the truth every second. But it's hard to find the fine line between expressing and overacting."
After a hiatus during which he appeared in "The Nose" at the Metropolitan Opera, Szot returned to Broadway and "South Pacific" this spring. He says his experimentation with musical theater has taught him to be more fearless as a performer: "There are things you learn about yourself and the character that you can only experience by doing a show eight times a week for a long time."
Brown says she would revisit the world of musical theater "in a heartbeat" if the role were appropriate. Gunn, meanwhile, has crossed over into musicals on occasion—for instance, playing Lancelot in a concert staging of "Camelot" with the New York Philharmonic in 2008. He believes that musical theater performers can learn from opera singers about being more attentive to the "musical requests" of a composer. But he also believes the opera world can take a page from musicals. Musical theater people, he says, "don't really care so much if you have to change a note or transpose something or get rid of a couple of measures. The point is to tell the story. Period. And I think opera can learn from that—that that is the point of all this music-making."