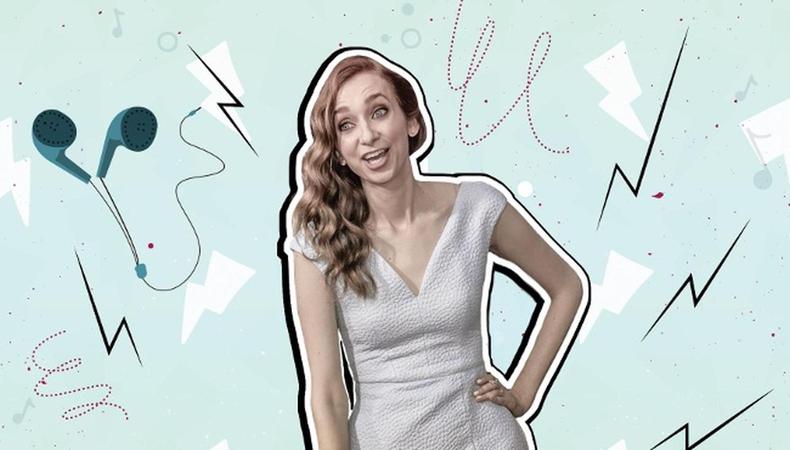 Lauren Lapkus had no plans to start her own podcast, for the simplest of reasons. "I don't know the technical side," she says over the phone. That hadn't kept her from becoming one of the most popular guests on comedy podcasts over the last few years, though, appearing on UCB alums Scott Aukerman's "Comedy Bang! Bang!" and Matt Besser's "improv4humans." But it wasn't until Aukerman's network Earwolf offered Lapkus her own show that she gave any thought to creating her own format.
READ: Scott Aukerman Holds Comedy Court
The conversation around podcasts often revolves around the people involved or the way that technology allows actors and writers a low-cost way to create their own content to share on social media. But comedy podcasts in particular are powerful tools in an improv artist's arsenal, something that Lapkus is quick to point out.
"I had so much fun doing it because it was a way to do long-form improv characters and explore a character an hour or two hours at a time," she says of her first guest appearances. "And it really felt very freeing. And as I was getting more familiar with the format and the ways I could express myself through this medium, it became more and more fun for me."
So when Earwolf's offer compelled her to give thought to how she'd like to continue that exploration on a regular basis, Lapkus knew exactly how to keep things interesting for herself. And thus was born "With Special Guest Lauren Lapkus," a talk show on which Lapkus plays a new guest every week while her co-star plays the host. In order to not tax her imagination, Lapkus delegates to her guest the broad strokes of whom she'll be playing. "I don't know anything going into the recording," she says. "For me, that's really fun. I like to really be in the moment and not have to plan as much."
And while Lapkus is also quick to agree with the benefits of podcasting for actors who are used to relinquishing control over their fates, calling "With Special Guest Lauren Lapkus" a "really empowering experience," she's far more attracted to the fact that podcasts turn long-form improv into something lasting. Rather than living on only in the memories of audience members and participants at a tiny theater, shows such as hers become a permanent record of her improv and her comedy.
Not that every moment is kept for posterity. Lapkus admits to occasionally—but only occasionally—editing out moments that might be too repetitive. "But really beyond that, everyone I have on is so great and there's something so fun about having that whole hour," she says. "Even when things get weird." But creating comedy in a vacuum has also strengthened her belief in herself and her choices.
"I've definitely had those moments where I think it's horrible, and the response is it's the best one yet and I'm like, 'I guess I don't know anything!' It takes the pressure off, and it does make me trust my instincts more in the moment because I can't be too concerned with the outcome. It's a crapshoot."
But for fans of Lapkus and her fellow podcast comedians, it's also a gold mine.
Interested in an on-camera career as well? Watch the video below to understand what your demo reel will need!
Want a career in comedy? Learn how to refine your comic persona!