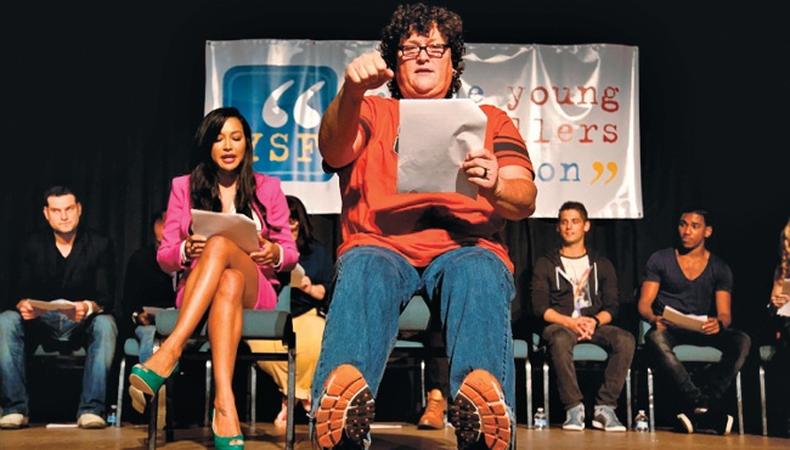 It can be hard for a young playwright to pick the star of his or her first play. But if the playwright is a fifth grader and has to choose from the likes of Mindy Kaling, Ed Helms, and Rashida Jones, the decision is a tad more epic.
Four students will cast their plays from a star-studded selection to commemorate 10 years of the Young Storytellers Foundation Oct. 12 at "The Biggest Show" in Los Angeles. Young Storytellers provides underprivileged children access to arts education by setting them up with mentors who help them write a short script over nine weeks. For the grand finale, or "The Big Show," professional actors are brought in for audition and cast by the writers, then perform the scripts onstage.
"Watching the student, seeing what they've written come to life, that is hands down the most memorable moment," said YSF executive director Bill Thompson. "Seeing that with my student at the very first session I did was addictive." Thompson, a former YSF volunteer, loved the program so much he quit his job in 2006 to work full-time for it.
Anna Phelan, a young storyteller, joined the program in 2010 when she transferred to a new school after being bullied at her previous one. "[YSF] really helped her get over the hump of getting bullied and not having good self-esteem," said her mother, Nina Andro. The program gave Anna confidence in her ability to be funny and has inspired her to continue writing stories.
Since its beginnings, the foundation has helped more than 5,000 students improve their literacy skills, self-esteem, and creative ability. The high demand for arts education means a never-ending need for programs, volunteer mentors, and actors in more schools.
YSF has recently taken the operation east and started a program in New York City. Actors and prospective mentors looking to help a child's creative growth while connecting with others in the field can volunteer in either city.
"You enter a community of people at your specific school, but then you're also part of a much larger community of actors, writers, agents, developmental executives, and other like-minded people that care about giving children a voice and also happen to work in the same industry as you do," said Thompson.
What advice can be offered to those thinking of volunteering to be a mentor or an actor for Young Storytellers?
"You want to realize at the end of the day, as much fun as you're having and as big as you're going, you want to respect the author's intent and their words," said actor and longtime mentor Sean Michael Boozer. "It's magic to see what they did come to life, as opposed to your interpretation of it. But it is absolute fun; it's just pure joy. Everybody who's there is there for the big team win; there's no ego, and it's so much fun to be in that environment."
Tickets for "The Biggest Show" are on sale at YoungStorytellers.com.