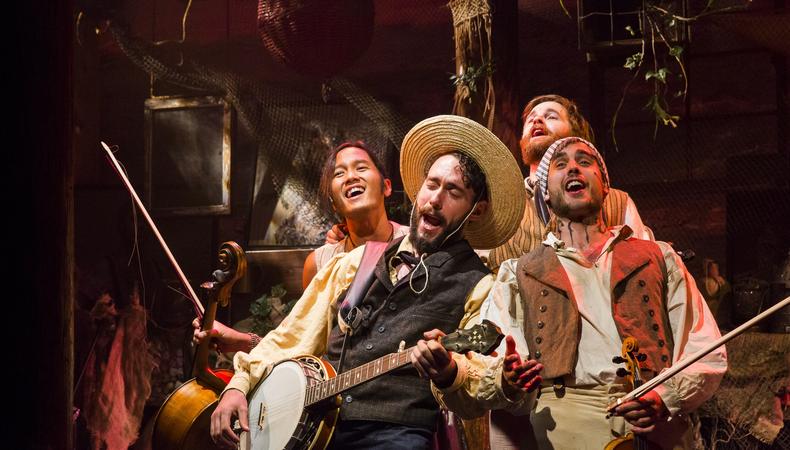 Part downtown theater, part folk concert, and part 19th-century whaling adventure, the Naked Angels' "SeaWife" is more than an unusual evening of musical storytelling—it's a testament to the power of theatrical collaboration.
The concert-play premiered June 23 and runs through July 19 in a distinctly historic New York City locale: the South Street Seaport Museum's Melville Gallery. Its developmental voyage began two years ago when the Lobbyists, a folk band made up of six New York actors, approached playwright Seth Moore and Naked Angels' artistic director Liz Carlson about composing music around an original story inspired by the golden age of American whaling. Two years may seem like plenty of time, but as anyone who has developed a musical can tell you, mounting such an epic production is quite the feat.
"Our goal was to be in production by summer 2015," Carlson told Backstage, "so we've really put the pedal to the medal." After multiple developmental workshops and musical readings, "SeaWife" entered the Naked Angels' three-step formula—where selected pieces from their Tuesdays@9 series are given full-length readings then substantial artistic support—and picked up recognition from developmental institutions including Ars Nova's Ant Fest, New York Stage and Film, The Cape Cod Theatre Project, and the Rhinebeck Writers Retreat.
"The South Street Seaport Museum is equally as thrilled and supportive of this project," said Carlson, adding that its Melville Gallery was completely destroyed by Hurricane Sandy and only recently reopened for cultural events. "Without the museum's support and their frankly overwhelming enthusiasm and excitement about the piece, we wouldn't be where we are."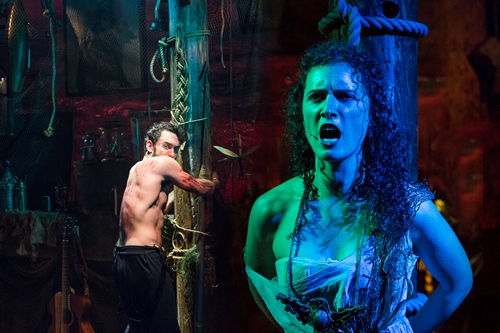 Photo by Caitlin McNaney
Throughout the process, Carlson said audiences played a key role. "Every single time we engaged in a series of writing workshops, we invited our friends and colleagues from the public to check in with us. We're stitching together this typical theatrical storytelling and concert storytelling in such a unique way; we've always wanted to see how our audiences are responding to it."
Audience response helped answer one of the project's biggest recurring questions: What role does the Lobbyists' music and lyrics play in this blurring of theater and live concert? "We have a lot of conversations about whether this is a band moment or if this is a part of the narrative itself," explained Carlson. "Our lyrics don't advance plot forward in the way a typical music does. Our musical events are more refracting off of what's happening in the plot, so it's more like commenting on it thematically of tonally."
This approach sinks the audience into the world of the play aurally; the tragedy and romance and rip-roaring adventure that make "SeaWife" notable can be heard in the Lobbyists' evocative music. It's the result of two years' hard work, an unconventional amalgam of storytelling styles Carlson dubbed an "uber-collaboration." Director, playwright, actor-musicians, designers, audiences—all combined to give this wholly original musical a strong dramaturgical voice. "This is the epitome of 'it takes a village' in crafting new theater."

Photo by Caitlin McNaney
For tickets and more information on "SeaWife," visit the show's website.
Inspired by this post? Check out our New York City audition listings!