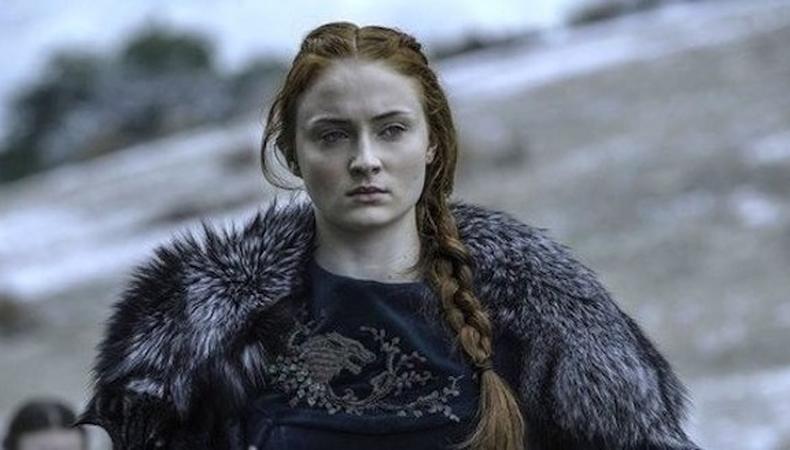 Brace yourselves, "Game of Thrones" fans.
The HBO megahit won't return until 2019, according to Sansa Stark herself. (Variety)
The 2018 Writers Guild of America Awards nominees are out.
Among the contenders are "GLOW," "The Handmaid's Tale," and "Stranger Things." Winners will be announced Feb. 11, 2018. (WGA)
The American Black Film Festival Honors nominees for 2018 have also been announced.
Film noms include "Detroit," "Get Out," and "Girls Trip," while TV nods include "Queen Sugar," "Snowfall," "Insecure," and "Claws." (ABFF)
Academy of Motion Pictures board devises new "standards of conduct" for its members.
Eight weeks after the Weinstein exposés, the Academy ratified a new "Standards of Conduct" to which each of its 8,427 members are expected to adhere: "There is no place in the Academy for people who abuse their status, power or influence in a manner that violates recognized standards of decency. The Academy is categorically opposed to any form of abuse, harassment or discrimination on the basis of gender, sexual orientation, race, ethnicity, disability, age, religion, or nationality." (THR)
This week in despicable male behavior...
Four more women accuse actor Rober Knepper of sexual assault (after already being accused of assaulting a stylist on the set of a 1992 film). Actor Sanchita Malik has alleged that during a callback for "Trafficked," a film about international sex trafficking, she and others were pushed to simulate being held captive in a brothel, with male actors as customers forcing themselves upon the women. Harvey Weinstein got slapped with a class-action lawsuit filed by six women who allege the producer and his former companies were part of a racketeering enterprise that exposed the plaintiffs and "hundreds of other females like them" to sexual misconduct. Terry Crews sues WME agent Adam Venit for sexual assault. The New York City Ballet is investigating chief Peter Martins for sexual harassment and has suspended all of his classes at The School of American Ballet, where he serves as artistic director).
"House of Cards" to shift focus (obviously) in its final season.
The sixth season—which will consist of just eight episodes—will focus on Robin Wright's character following Kevin Spacey's firing over allegations of decades-long sexual misconduct. (The Guardian)
Several productions have halted due to the California wildfires.
Aside from the fact that they've caused massive damage and evacuations in Southern California, this week's raging wildfires have also shut down production on CBS series "S.W.A.T." and HBO's "Westworld," both of which shoot near Santa Clarita, in Los Angeles County.
"The Shape of Water" dominates 23rd Critics' Choice Award nominations.
The 23rd annual Critics' Choice Awards unveiled its nominees Dec. 6. Guillermo del Toro's "The Shape of Water," which premiered at the Venice Film Festival back in August and was awarded the festival's highest prize, led the pack of this year's critical darlings with 14 nominations, including Best Picture. (Backstage)