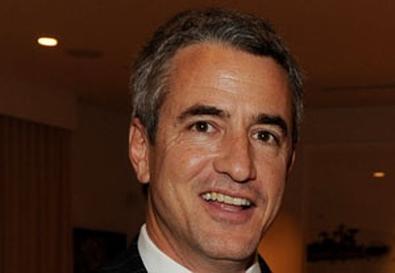 Better known for playing charming romantic leads, Dermot Mulroney has recently turned his attention to a darker, deeper role. In the thought-provoking "Inhale," he portrays a man facing a moral dilemma that will mean life or death for his critically ill child. It is, pardon the pun, breathtakingly poignant work in a film that at first appears to be a thriller.
Mulroney began his film career with "Sunset" in 1988 and also starred that year in "Young Guns." Years later, with "My Best Friend's Wedding," as the eponymous friend, he began to be known to the general public. Soon notable roles followed—in "Lovely and Amazing," "About Schmidt," and "Zodiac," and on "Friends" as Gavin, Rachel's replacement at work. Mulroney served as associate producer on the documentary "God Grew Tired of Us," and he is making his directorial debut with this year's "Love, Wedding, Marriage."
With "Inhale," he is taking on a serious issue in a serious fashion, and he praises IFC Films for tackling it, especially as the film doesn't have a "Hollywood ending." Mulroney stars opposite Diane Kruger, who plays his wife. At our interview, we were about to ask him about a particular scene with her, but before we could get the tape recorder cranking, the actor amiably launched into reasons he won't read the trades. It's still painful, he admits, to see the great roles other actors have secured, so he tries to help himself by not peeking at that news.
"Especially for all the people who read Back Stage who don't have a damn job, it's insane-making," he says. "And I'm good at not being bothered by other people's success. I'm as good as any actor friend that I know. I've had a lot of success, so that makes it easy. But it's a tall ladder, and I'm on, like, the third rung. If I were going to spend all day looking up the ladder, I'd want to chew my nails or do something worse."
Back Stage:
What would make an interesting play is a scene that's not in the film: that conversation the parents must have had before the final scene. Did you and Diane work on that conversation, improvising or talking about it?
Dermot Mulroney:
I was planning on that. She showed up to the set, and I saw that she had already played that scene in her head. And I thought, "I don't need to go near it." She just had whatever she had on her face and in her body in that moment that's in the movie. I was going to say, "Diane, while we're getting ready, let's talk through how this action went down." And she came to work ready. So we never needed to.

Back Stage:
What about your preparation and work in the scene?
Mulroney
: I just tried to stay warm, stood there, and didn't look at her, because of what I was feeling, which was either shame and regret—those are easy—but anger and fear, which are the same thing, and loss and grief and mourning. And cold.
Back Stage:
And you just called all those up and let the audience fill in the blanks?
Mulroney:
Yeah. There's a lot to be said for that. If you're going to leave this burden of "What would I have done in that situation?" in the lap of the audience, then you can't go there and meddle with it. He decides it, he does it, and he walks away. They used to be able to make movies like this: ambiguous endings, or making the wrong moral choice. But filmmakers and distributors, they're afraid of not making money. Who can blame them?

Back Stage:
What's the hardest you ever worked to get cast in a role?
Mulroney:
The roles that I've worked hardest for I didn't get. And don't wring them out of me! But there's a couple over the years that I still remember. Aach. And not—going back to what we first talked about—because the other guy got it, but just because I would have liked that experience. Each of the ones I've hotly pursued, there's a reason why you don't get it. And whenever I hotly pursue something, it's because it's just a little bit out of my reach anyway. So it all makes sense, but it doesn't make it any easier to swallow if you don't get the part. At this age, I've done it this long, and I still get disappointed, which is infuriating. So silly.

Back Stage
: Do you study acting between jobs?
Mulroney:
I don't, and it just occurred to me that I should. Literally a week ago. Somebody else mentioned it, and I thought, "Well, there's an idea. I should find some sort of acting coach." So I think I will. Last I did was 15 years ago or something. You remember Roy London? I saw him for certain roles over the course of a couple of years—coaching for a role I already had.
Back Stage:
What's your worst-audition tale?
Mulroney:
I hate to beat a dead horse, but I did have an audition one time where the casting director said to me, "I really loved you in 'Hamburger Hill,' Dylan."
Back Stage:
Dylan McDermott. That was his first film.
Mulroney:
Yeah. [Laughs.] So I was like, Hmm, now do I read? I actually had the balls to say thank you and I left. D.B. Sweeney got the part and did a great job.
Back Stage
: Have you ever felt miscast?
Mulroney:
Sometimes I look back and realize how miscast I was. Again I won't say where. But what I find more interesting is when I've been so well cast, when I didn't believe it at the time. The best example is "About Schmidt," 'cause I just kept thinking, "Alexander, you gotta find a bald guy. Why me? You can't actually mean it." And I had to wait about a month and a half to get that part. I auditioned, and then didn't hear and didn't hear. I would rarely do this, but I'm literally calling the agent every other day: "Have you heard back from Alexander Payne?" So I was making myself miserable. And then out of the blue [Payne] calls me and says, "I want you to do the part." And then, of all things, I couldn't believe it. There was a whole mind/psychology trip on that particular movie. So I never had any doubt as I was doing it, but I think it was fantastic casting. But it felt like a stretch to me, and it felt like perfect casting to the director, so I went with his take on it. So that's answering the flip side of the question.

Back Stage:
Were you ever a starving actor?
Mulroney:
I never was, 'cause I [moved to Los Angeles] in late August '85 and I had my first job January of '86. But my father said, in lieu of him spending on graduate school, he'd pay my rent for a year. So he paid September through December.
Back Stage:
How did you start getting work after graduating from Northwestern?
Mulroney:
Hey, listen, this is what happened. That year, 1985, was the year that I'm finishing at Northwestern, and all those Steppenwolf actors took over Hollywood. So an agent from William Morris, Hollywood, Calif., came to the school—a traditional talent scout—and signed me up. I graduated that spring and moved out at the end of the summer, with an agent. It's the lucky kid at the right place at the right time. But the problem is that there is no such thing anymore. Here's my biggest complaint about Hollywood: Agents, principally, but also producers and by extension whatever remnant of the studio system, have let actors down. And I'll tell you why: They don't talent-scout anymore. I am, like, the last man standing that somebody went out and took that hook and brought him in and turned him into a working actor. So my big complaint about this industry is that they've all forgotten how to support talent, how to hire a person more than once, how to promote someone as if they're a movie star, by which maneuver they will be one. "Who since then?" he asks nonrhetorically. Did we have a 25-year-old movie star since Brad Pitt? McConaughey maybe. It's insanity, because there's no investment in the studios' future. So that now that I'm a middle-aged actor, I'm like, you've got to put somebody up there so that I can play the colonel or the priest or the principal. Right? And what they did instead was hear about some kid that was in a soap opera in Australia, or who's in a play in England. And you know what the problem is? They're not American. I hate to break it to you. They always just seem a little bit foreign. And I'm not a flag-waver. I just think that people forgot to do what they're supposed to do, which is go find talent and support it.