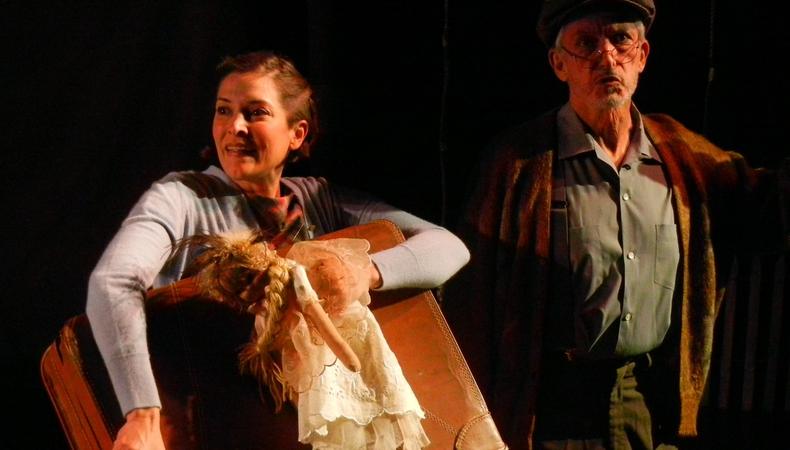 Part of the mission of 24th Street Theatre, besides creating a culturally friendly atmosphere in its mostly Hispanic neighborhood, is to expose the wonders and healing powers of the arts to the children of its community. The centerpiece of the company's current season is the West Coast premiere of "Walking the Tightrope," chosen with a determination to make it accessible for all ages. With an early curtain time and an audience liberally peppered with very young, very vulnerable faces, what unfolds is anything but the tale of Aladdin and his magic lamp. Instead, Mike Kenny's diaphanous memory play deals with the hefty topics of grief and death—not the usual kiddie fare but surely something on the minds of youngsters in America after last month's horrific Sandy Hook school shootings. It's a tough world out there, and nowhere is growing up scarier than in the area surrounding this theater, which allows locals to attend for an admission price of 24 cents.
The other challenge with "Walking the Tightrope" is the manuscript itself, unique in its lack of any stage directions or descriptions. There's only Kenny's lyrical stream-of-consciousness dialogue spilling out of the characters like a lengthy tone poem. The premise is simple. Every summer a little girl named Esme visits her grandparents, but this year something integral is missing. Esme is greeted at the station only by her grandfather, who, instead of explaining that his wife has died, invents a fanciful tale that she has joined the circus. In offering this answer to the void Nana's absence causes, he not only evades the hurt Esme will feel but is able to bury his own heartache a little while longer.
Director Debbie Devine and her cohorts have fashioned from scratch something incredibly special, suggesting the feeling of a sweet summer dream staged by Federico Fellini. Choosing to set the play on the English seacoast in 1959 helps give it a foggy, gossamer feeling, accentuated by Keith Mitchell's simple canvas-draped circus set; scratchy, surreal animated projections by Matthew Hill; and evocative live piano accompaniment by Michael Redfield. Still, even bolder is Devine's addition of another character. Winding through the story is Tony Duran as a gracefully omnipresent clown, sporting obligatory red suspenders and matching nose, who hovers around Esme and her grandfather without them being aware of him. He clearly represents the ghostly avatar of Nana, whose love and compassion for those she's left behind has manifested into this imaginative incarnation.
As Esme and her grandfather, the gifted Paige Lindsey White and Mark Bramhall are brilliant casting choices, although by opening night neither had quite settled into the kind of chemistry that will surely fall into place as the run continues. Bramhall is magnificent conveying the grandfather's barely concealed grief, while White brings an infectious childlike quality to Esme. When the two actors begin to share the strengths and comfort of their characters' love for one another even more deeply, "Walking the Tightrope" will grab the stars for patrons of any age.
Presented by and at 24th Street Theatre, 1117 W. 24th St., L.A. Jan. 26–May 18. (213) 745-6516 or www.24thstreet.org. Casting by Julia Flores.
Critic's Score: A