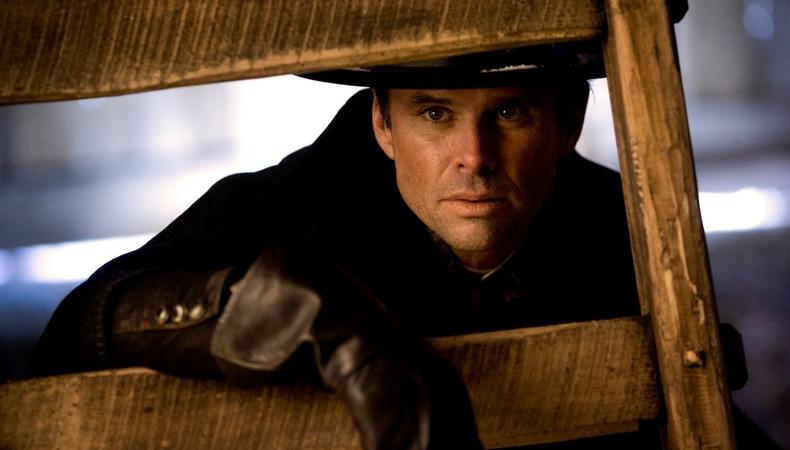 "The Hateful Eight" is an ambitious Western whodunnit starring a stagecoach of Quentin Tarantino mainstays such as Samuel L. Jackson, Tim Roth, Kurt Russell, and Michael Madsen, with other established pros like Jennifer Jason Leigh and Channing Tatum making their debuts with the writer-director. Holding his own alongside these Hollywood heavyweights is Walton Goggins, who began his acting career in Atlanta as a teen.
"There was a thriving film community here when I was coming up," recalls Goggins. "It was doing pretty well, but now it's become the Hollywood of the South. So many films are done here, and so much art and culture and music is now centered in Atlanta. It's so interesting and gratifying to see how vibrant and important this city has become."
Goggins' ambition to be an actor—or storyteller, as he prefers it—began when he was 14 years old. In a time before film casting resources were as readily available as they are now, he found famed casting director Shay Griffin in the phone book.
"There's been no greater advocate for bringing film to Georgia than Shay Griffin," he says. "I had a conversation with my mother. I said, 'I need you to take me downtown. I need to meet Shay Griffin. She's responsible for casting all the movies in town. I want to go on Monday, as soon as I get out of school.' So we went downtown and I walked into her office. There was a receptionist there and I said, 'I'm here to see Shay Griffin. My name is Walton Goggins. I'm an actor and this is the person I need to speak to in order to make that happen.' She came out three minutes later and introduced herself. I think just because of the audacity that I had at such a young age to walk into her office, she sat down and had a meeting with me."
That meeting has resulted in an impressive career. From breakout roles on TV shows such as "The Shield," "Justified," and "Sons of Anarchy," to working with big screen directors such as Robert Duvall, Rob Zombie, Anthony Hopkins, Steven Spielberg, and Robert Rodriguez, Goggins has established himself as a diverse character actor. He also performed in and co-produced Ginny Mule Pictures' short film "The Accountant," which won an Academy Award.
Having also been cast in Tarantino's "Django Unchained," it appears he has become part of the filmmaker's regular stable of favorites. Filmed with 70mm cameras, "The Hateful Eight" is being presented in standard digital format as well as special roadshow screenings where cast members are occasionally making surprise appearances to introduce the film (Goggins made one such appearance recently at an Atlanta screening).
"The way these lenses are shaped, the way they capture their images, they're at an angle and I've never seen anything like it before," he says. "You have these conversations as an actor with your DP—in this case it happens to be three-time Academy Award winner Bob Richardson—and you check the parameters of the frame. Are you capturing me here? Nope. Here? Nope. To understand how much of the room these lenses could see at any given moment took some getting used to. Then you turn yourself over to the story and do your job."
He adds, "I was in class for 14 years, every day. That opened the door for me to fully understand how much I didn't know and set to work getting to know it. There's a great book by Malcolm Gladwell called 'Outliers' that [says] once you've done something for 10,000 hours you begin to really understand it. That's what it was for me and so many other people. And it all started in Atlanta."
While his convincing performance as Sheriff Chris Mannix has many predicting bigger things for Goggins, he's just happy to have participated in such a zealous undertaking alongside a talented ensemble cast.
"I don't look at anything as a stepping stone to something else," he says. "The exposure will be what it will be. I do not try to dictate where that river goes. I just know that I've always lived my life in a way where I've been given the right door to walk through. I've been doing this a long time and I have fans all over the world, but this is a unique opportunity to work with my friend and someone who looms very large in my life, Quentin, and all these actors. I look at it as a grand life experience, and I don't look at anything beyond that."
Inspired by this post? Check out our Atlanta audition listings!