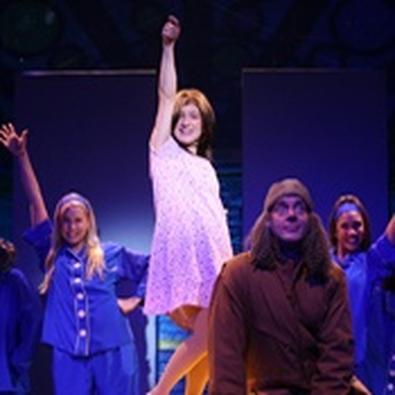 Wanda's World, an entertaining concoction aimed at that profitable audience of prepubescent girls known as "tweens," fits neatly into the groove cunningly carved by Disney with High School Musical and its sequels and exemplified on Broadway by Wicked and Legally Blonde.
The middle-school denizens of Wanda's World are a bit younger than those inhabiting Disney's high school, but be assured they have the same innocent hormonal urges. The show, too, has a catchy score by Beth Falcone with pop-rock melodies and smart lyrics, infectious hip-hop dancing by director-choreographer Lynne Taylor-Corbett, and a serviceable book by Eric H. Weinberger with an uplifting tutorial: Be yourself and don't get bogged down by your supposed negative qualities.
Thirteen-year-old Wanda daydreams that she hosts a tremendously popular TV show to which troubled tweens phone in for solutions to their problems. In reality, Wanda has her own troubles: She's facing her first day at a new school, Cheese Valley Middle School, and is sure the large birthmark on her face will mark her as an outsider. Indeed, it isn't easy at first: She's teased and even vilified by the coven of popular but mean girls. Eventually, though, with the help of supportive faculty and the friendship of the school's richest and hunkiest guy, star quarterback Ty Belvedere, Wanda is accepted and even gets her own TV show, produced by the audio-visual class.
A talented, all-singing, all-dancing 11-person cast puts the production across smartly. As is endemic in these shows, the actors look older than the kids they're playing, but they're an attractive, easy-to-like bunch. Sandie Rosa is an appealingly diminutive Wanda and delivers her big number, "A Face Like Mine," with Streisand-like power. James Royce Edwards is a swoon-worthy Ty and does some terrific athletic dancing, while Valerie Wright and Chris Vettel make a pair of fun teachers. What other kind should there be in a middle-school musical? Let's just hope target-audience parents don't mistake the title for the insidiously grungy Wayne's World.
Presented by Amas Musical Theatre in association with Terry Schnuck
at the 45th Street Theatre, 354 W. 45th St., NYC.
Jan. 23-Feb. 10. Wed.-Sat., 7:30 p.m.; Sat. and Sun., 3 p.m.
(212) 352-3101 or (866) 811-4111 or www.theatermania.com.
Casting by Carol Hanzel Casting.