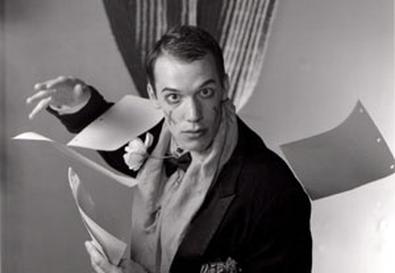 Randy Anderson is a strong advocate of the do-it-yourself (DIY) movement. For him, it's not the wave of the future. It's the present. In 1999, he forged a theater company, The Beggars Group, which is still thriving on the Lower East Side and, more recently, he penned and self-published a lively memoir, "On Making Off: Misadventures Off-Off-Broadway," detailing his funny and sometimes not-so-funny experiences as a 20-something actor in New York trying to make personal and professional inroads.
"I was auditioning for about a year in New York and not getting—or even auditioning for—roles that were especially fulfilling," he recalls. "I was also spending a lot of time going from place to place, sneaking backstage, to meet the right people, who I believed would help land me jobs. I didn't land any jobs. Forming my own company gave me creative control over my career."
He also started writing and co-writing plays for himself and his company. Aesthetics played a role, and so did finances. Gone were the copyright issues and expenses. In every way, he has benefited from doing it himself. He views it as an exercise in empowerment. That doesn't mean Anderson wouldn't like to see his plays produced by an outside investor or his next book picked up by a commercial publisher. It goes without saying that if someone were interested in casting him in a play or film or TV show, he'd be up for it. But for the newcomer, the DIY movement helps create the calling card, he asserts.
"I always had the desire to do things myself," he notes. "But there is a point where you should go to the next level. Before my day job was at J.P. Morgan. Now I'm working at Society of Stage Directors and Choreographers as a business representative. I made the move deliberately to make contacts. I'm making my day job more in line with what I want to do."
Always on the lookout for a new opportunity, Anderson reflects on his past efforts and the hurdles he faced.
Back Stage: Why did you leave your hometown of Los Angeles to come to New York to be an actor?Anderson:
I wanted to find a theater community interested in making theater. In L.A., theater is viewed as a chance to be seen as a steppingstone to a film career.
Back Stage: Once you decided to form a theater company, how did you go about finding compatible actors?Anderson:
We started out loose and fluid. Now we have an audition system in place. We only want to work with actors who like working in a collaborative setting and are in tune with our style. Our theater is based on physical storytelling with a magical realism element. Our auditions consist of physical exercises, stunts, and improvisations. This is not for everybody, and we really appreciate it if an actor says so during the audition and leaves. It takes a strong actor to make that admission.
Back Stage: What are some of the most important issues actors should be addressing if they're thinking of forging a theater company?Anderson:
Dividing their time properly. Too many times production elements pull them away from their craft. Being in front of the house and backstage at the same time is detrimental to the actor's job. Our performances suffered. You need to bring in a stage manager and/or producer. You also need a director who can look at what you're doing with an outsider's eye. In our early years we cast aside the idea of needing a director, and it was a mistake.

Back Stage: How important is it for a company to have a home?
Anderson:
It's far more important to have a rehearsal space that you use repeatedly than the same physical space for a theater.

Back Stage: How do you determine the right neighborhood in which to rent space?Anderson:
The first thing you do is figure out what it is you're doing and who your audience is. If your material is about revolution and it's young, loud, and fast and you're talking to 20-somethings out for a late night, the East Village is where you'd look for space. If, on the other hand, your material is intellectual, kitchen sink drama, dealing with such topics as aging parents, your audience is probably older. That audience is also more likely to want to go to the theater right after work as opposed to going to a late-night show. For that crowd, an uptown space would be more suitable. Of course, for a big, splashy show you'll need a larger space than you would if you're producing a small, intimate show.

Back Stage: Should you assume the theater will provide a technical staff?Anderson:
No, you have to bring in your own technical person who has expertise in lighting and sound design. Next to the stage manager that person is the most important. The stage manager and the tech person would be the first two I would give money to if I had extra money.
Back Stage: What kind of money do you need to launch an off Off-Broadway company?Anderson:
You need a minimum of $5,000 for each show. At the height of our company's success we were up to $15,000 a show. We work under an Actors' Equity Showcase contract, which means when we hire Equity actors all we pay them is carfare, the same amount the non-Equity actors receive. However, we do purchase accident insurance. It costs $500 to $1,000 a year and it's essential.
Back Stage: In your book you talk about the financial help you received from a well-heeled aunt. But what should you do if you don't have access to family money?Anderson:
I produced my first play—before I had a company—for $980 and I borrowed that money on my credit card. But there are fundraising approaches, including online fundraising, such as Kickstarter.com Set a goal, but start small, post it on Facebook, and ask your friends to contribute $10 each.
Back Stage: Your theater company briefly fell apart in 2001. What happened and what did you learn from that experience?Anderson:
We were fractured in our vision. The key to success is writing a mission statement and we didn't have one initially. If you are working collaboratively you need to be focused on an end goal. If someone has a change of vision, that person is free to leave, but the company will continue.

Back Stage: Anything you'd like to add?Anderson:
If you want to do something you should do it, because you can.