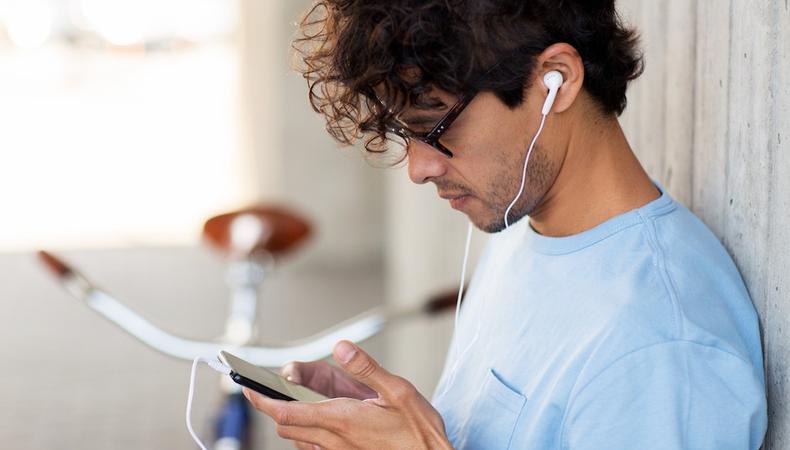 As an actor, you're pretty much always on the go. As a New York City-based actor, that's doubly true. Between Subway-ing from your day job to an audition—and then back to your day job—free time is few and far between. In fact, sometimes your 20-minute commute is the only down time you'll have that day, so why not utilize it productively, say, with a Broadway-centric podcast?

Podcasts are an ideal way to let someone else do the entertaining, and can still be entirely beneficial for bettering your craft. There are dozens of podcasts dedicated explicitly to theater so the suggestions below are hardly your only options, but these seven options let you listen on the go and offer (free!) advice and anecdotes any actor hoping to make it to the Great White Way should hear:
1. Theater People
Hosted by Patrick Hinds, this weekly podcast welcomes a different Broadway star each episode and takes a deep dive into their current projects, as well as the trials and tribulations that brought them to the stage. Funny, insightful, and often raw, each interview will give you firsthand insight into the most notable triumphs and heartbreaks of performers like Lin-Manuel Miranda, Megan Hilty, Phillipa Soo, LaChanze, Norm Lewis, and many more. (www.theaterpeople.com)

2. The Ensemblist
Broadway stardom can mean many things; some dream of seeing their name in lights, but what about all those performers on the boards who aren't above the marquee's title? Hosted by veteran performers Nikka Graff Lanzarone and Mo Brady, this podcast is dedicated to Broadway's unsung heroes, the members of its ensemble, in the hopes of changing the way listeners think of "making it" in the theater. (www.theensemblist.com)
3. Living the Dream
Currently serving as King George III in the first national tour of "Hamilton" (a musical you may have heard of), Rory O'Malley is quite literally living the dream. However, in the podcast he created which bears that elusive concept as its title, O'Malley is ever-in-touch with his less than auspicious start in the business. Each episode features an in-depth and comfortable conversation with a fellow performer, delving into the survival methods that came before catching a break (and sometimes after), as well as means of artistic fulfillment between gigs. (www.roryomalley.com)
READ: 4 Podcasts to Inspire and Entertain You
4. Broadway Backstory
For the theater nerds out there (aren't we all?), Broadway Backstory will satiate your every geeky fascination. Each installment is focused on a different Broadway show and goes through its entire lifecycle, from the first-planted idea seeds to its gestation period to its eventual run, reception, and, if it's no longer on Broadway, its closing. Featuring interviews with actors as well as members of the shows' creative teams including directors, writers, and producers, past episodes have been devoted to "Next to Normal," "Fun Home," and Deaf West's "Spring Awakening." (www.todaytix.com)
5. Broadwaysted
Did you know that alcohol tends to make conversations a bit looser and more uninhibited? Well, the team behind the jovial Broadwasyted figured out that little trick, and each week they invite a different Broadway star to join them for booze and chatter. Every hour-long episode is as interesting as it is delightful and will make you feel as though you, too, are enjoying a cocktail with some of today's most notable performers. The show, in which the three-person hosting team is "drunk on theater" as well as liquor, boasts a recent guest lineup of Tony winners and nominees like Michael Cerveris, James Monroe Iglehart, and Carmen Cusack. (www.broadwaysted.libsyn.com)
6. Broadway Radio's "This Week on Broadway"
No nonsense and knowledgeable, this podcast released every Sunday will keep you up to date on all industry occurrences throughout the previous seven days. Which shows are closing? What's transferring? Are there rumblings of an industry controversy onstage or off? Hosts James Marino and Michael Portantiere are well-informed and will make sure you're provided with answers to these and more questions by the end of your listening. (www.broadwayradio.com)

7. BroadwayCon the Podcast
As you can probably infer, BroadwayCon the Podcast is the audio accompaniment of BroadwayCon, the now-annual event held every winter in New York City that draws Broadway fans and stars alike to bask in their mutual love of all things theater. This podcast, fittingly, speaks with Broadway stalwarts about their theatrical beginnings: when they first found their passion for theater, their experiences with performance as a child or teen, the first shows they ever saw, etc. If you've got an already-sentimental disposition, you'd be wise to arm yourself with tissues before listening, particularly if you plan to do so in public. (www.broadwaycon.com/podcast)
After listening, head over to Backstage's theater listings to book an onstage gig!