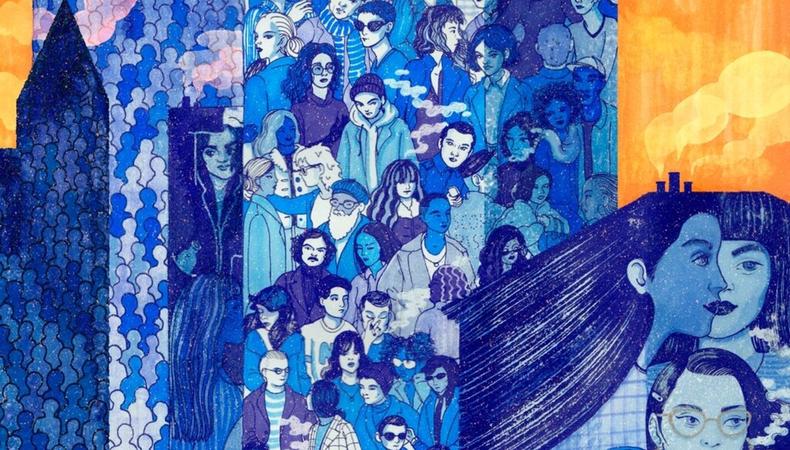 Grant Wilfley has had a hand in casting some of the most popular and critically acclaimed screen projects of the last 20 years. Wilfley owns one of the biggest background casting companies in New York City, and he has "replicated reality" in films like "Sisters" and "Trainwreck," as well as helped create the look of fantasy or superhero universes like "The Secret Life of Walter Mitty" and "Gotham." He's also become known for creating accurate period worlds like those seen in "The Marvelous Mrs. Maisel" and "The Wolf of Wall Street." His work blends seamlessly into scenes, but the process requires collaboration with several departments behind the camera to make the background of each project a convincing reality.
What advice do you have for someone who is looking to get into background work?
Visit websites like Backstage, put pictures up, and register with the casting offices. It's important to have several photos that depict you in a very realistic way and in different roles you can play. It's also important that the photos haven't been retouched and polished by professionals. They should show you in specific looks. When we're showing pictures to a director, we want to choose a picture that looks most like that person being cast in the role. Pictures are very important to the casting process.
Do you typically look for people with acting or performance experience or are you open to anyone when casting background?
It really depends on the scene and what's required. We're always open to people who haven't done this before for certain scenes, especially crowd work. When it comes to specific roles or featured roles, we're usually looking for someone who has experience. When we know we need an actor for a part that's featured and could be upgraded to a day player, we find ourselves going online on casting sites that we use and looking at their reels to see some of the acting work that they've done.
What are some things actors shouldn't do if they want to get cast and be asked back?
It's really important to be professional and courteous. On a set, there's a lot of hurry up and wait and it's always important to be ready, but also to be polite to your fellow actors and to the crew members. It really is a professional working environment, and it's important to always remember that.
What considerations do you have to make that principal CDs don't?
There's a lot that goes into the selection process. We start by asking if they look right—that is usually the criteria; are they the right ethnicity? Are they the right period look? Is their hair long enough? For the period projects, do they fit in sizes they need? Period wardrobe is usually much smaller, depending on when it is, so there are wardrobe restrictions in terms of sizes we're given.
READ: How to Become a TV Background Actor in NYC
How can background actors who want to get noticed for potential bigger roles increase their chances?
Having a reel is really good, and listing anything out of the ordinary—all special ability skills that might play into what the role is. Anything that makes them different from other people is really good to list. We're asked for a lot of specialty types of people, like nurses, doctors, and punk rockers. Also, show photos wearing the looks and mention any interesting props they might have, from period cars and various uniforms to culturally specific clothing. Anything that makes them stand out helps.
How can background work benefit an acting career?
There are a lot of SAG actors in New York who work on a regular basis doing background work. A lot of them supplement their principal work by doing it, whether in commercials or theater. It's a great way to work in between projects but also to make a living as an actor and be on set. Everyone starts somewhere in the industry. Doing background work is a great way to start and see what happens on a set, to see their peers actually working their craft, and to get comfortable and familiar with how a production team works. Some people make a living out of it; it's a great way to make money. I always tell people starting out who are non-union actors that it's a great way to learn about the business, be on a set, but also to be close to the principal actors who you admire. You witness their craft and career and actually see them work. You can't learn that in drama class. You learn a lot in drama class, but to actually see it happen in person is a different thing. Always approach it as an observation and a good learning experience.
Where and how do you find talent?
Most of it is done online these days. We put out notices on casting platforms like Backstage, and we post everything on our own website. We often look through social media as well. We post things on social media, and people email submissions through the postings. That's one of the big changes in the industry: If you want to post something that's really out of the ordinary, you can put it on social media, and you'll usually get people responding.
What don't actors realize about what you do?
We're very much reliant on the production schedule. Quite often, we're waiting for decisions, times, and information from the production because we're working on a day-to-day basis with them. We don't get that information until later on the day before a shoot. We're reliant on the production to give us the information in order for us to pass it onto the actors we cast. If we're not able to book someone until late at night, it doesn't mean we're out having a nice dinner or we're at the movies and we'll get to it later, it's usually because we're waiting to get the go-ahead from production, and they might be shooting that night.
Who do you work with in the crew when you're casting background?
We often work with the wardrobe department, hair and makeup department, and the assistant directors, who are our main communication with the production. We even work with the production assistants. We work with everyone who has anything to do with tweaking and placement for the background actors. We work with the ADs and the directors on specific featured people. We'll show pictures to them to see what their feeling is about the people before they're cast. Often, the director and ADs are very much involved in the process of picking people.
Looking to get cast? Apply to casting calls on Backstage.