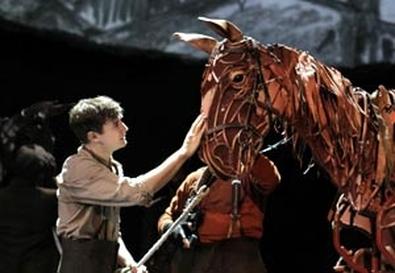 I've never been keen on horses, and puppets in the theater tend to arch my eyebrows. Nevertheless, from the moment the life-size puppet of a foal loped lazily onto the vast Vivian Beaumont Theater stage as two birds, attached to long poles in human hands, were wheeled across the heavens, I was hooked. For two and a half hours I sat enthralled by "War Horse," taken completely out of myself and the petty concerns of my life. Gloriously theatrical and almost unbearably moving, this stirring testimonial to the power of honest sentiment is a never-to-be-forgotten theatrical experience.
The time-honored tale of a boy and his horse, the play is set during World War I. Albert Narracott is a farm kid from Devon, England, whose drunken father, Ted, buys a foal with the mortgage money. Albert's furious mother, Rose, charges her son with the responsibility of raising Joey, as the boy names him, to adulthood, when hopefully the proud riding horse, unsuitable for farm work, will fetch a good price and repay the crushing debt. Of course, Albert and Joey develop a special bond, but when war intervenes, Ted sells Joey to the army. The underage Albert runs away to enlist and search for his soul mate. The rest of the plot details the experiences of boy and horse on the battlefields of France.
Directors Marianne Elliott and Tom Morris marshal their forces with limitless invention. Rae Smith's inspired piecemeal set is dominated by a great curved slash of what looks like parchment, on which drawings (by Smith) and videos are projected. (What it turns out to represent is one of the evening's greatest pleasures.) Paule Constable's chameleonic lights evoke everything from a pastoral English morning to the stark horrors of warfare. Adrian Sutton's dramatic musical score and John Tams' songs are indispensible. The astonishing puppets, created by Adrian Kohler with Basil Jones, range from those extraordinary horses to geese, vultures, and even a tank. But none of this immense creativity would have the desired effect without the script and performances to realize it.
Fortunately, Nick Stafford's canny adaptation of Michael Morpurgo's fine children's novel is top-drawer. It wasn't an easy task, because the novel is told in first person—from Joey's point of view. As Joey doesn't speak here, Stafford has very intelligently kept the story's bones while beefing up the cast of humans in thematically reinforcing ways and replacing a novelistic structure with a dramatic one. His reinvention of the climactic reuniting of Joey and Albert is a particular triumph.
I haven't the space to single out all the excellent work done by the 35-person American cast. The first nod must go to the amazing puppeteers who embody Joey (Stephen James Anthony, David Pegram, and Leenya Rideout are the foal; Jeslyn Kelly, Jonathan David Martin, and Prentice Onayemi are the grown horse) and Topthorn, another majestic English horse (Joel Reuben Ganz, Tom Lee, and Jonathan Christopher MacMillan). They create thoroughly detailed personalities solely through sounds and movement. Among the speaking actors, Peter Hermann contributes a vital turn as a sensitive German officer longing for his family, Stephen Plunkett makes a forceful impression as his sketch-artist English counterpart, Alyssa Bresnahan is a fiercely loving Rose, and Madeleine Rose Yen is a force of nature as a young French girl who cares for Joey.
Ultimately, however, the show belongs to Seth Numrich as Albert. The Juilliard-trained actor, whom I first admired Off-Broadway in 2009's "Slipping," is the heart and soul of "War Horse." His vivid performance is rigorously honest, with a breathtaking emotional transparency. Commanding the stage like a seasoned vet, Numrich effortlessly provides the considerable size that this production requires. I only hope that his superb work will be recognized come awards season.
Presented by Lincoln Center Theater and the National Theatre of Great Britain, in association with Bob Boyett and War Horse LP, at the Vivian Beaumont Theater, 150 W. 65th St., NYC. Opened April 14 for an open run. Tue., 7 p.m.; Wed.–Sat., 8 p.m.; Wed. and Sat., 2 p.m.; Sun., 3 p.m. (212) 239-6200, (800) 432-7250, or www.telecharge.com. Casting by Daniel Swee.