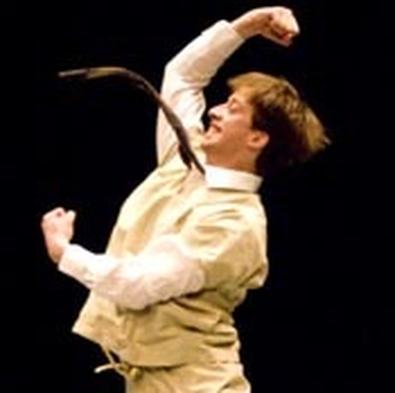 For those living in Ward 9, genius is all around. Yet it doesn't shine as brightly as one might think.
Vincent Van Gogh, Howard Hughes, Vivien Leigh, Bobby Fischer, Sylvia Plath, Ludwig van Beethoven, and Vaslav Nijinsky convene in a mythical asylum, where each struggles to reconcile inspiration and functionality amid interventions from nurses doling out pills and shock treatments. Predictably, they attempt revolt. In just 80 minutes, using only dance and a few projections of Plath quotes, choreographer and director Matt Williams and co-director Mark Robinson can present little more than snapshots, and these are widely varied in their execution and utility to the thin overarching plot.
Among the most effective sequences are those of Van Gogh (Matt Baker) completing Sunflowers and Fischer (David Guggino) playing chess. The fiery, impulsive movements of Van Gogh lunging at the other patients' incomprehension and ultimately turning on himself contrast intriguingly with Fischer's round-shouldered, simian propulsions as he revels in his abilities.
Williams — who also wrote the story with Gregory Victor — is less successful with his attempts at grim levity. Howard Hughes' issues with a dirty toilet depend on actions too small for much choreography, and a field-trip sequence with the patients taking over a bus is inane and visually dull. The Vivien Leigh caricature gets to do little more than prance around with a whip, although Ashley Anne Russ' facial expressions are unusually communicative and charming.
The entire show is set to Beethoven's music, and the intensity of the pieces chosen doesn't always mesh with Williams' seriocomic take on the asylum. Notably, the texts to Beethoven's Ninth Symphony are completely incongruous with the action.
Overall, in its shallowness and occasional thoughtlessness, Ward 9 feels more like a student exercise — "dance these famous people" — than a cohesive work. Though it contains some stunning sketches, they are, in the end, only sketches.
Presented by Matt Williams and Emily Miller as part of the New York Musical Theatre Festival at Manhattan Movement and Arts Center, 248 W. 60th St., NYC. Sept. 18-21. Remaining performances: Sun., Sept. 21, 1 and 7 p.m. (212) 352-3101 or (866) 811-4111 or www.theatermania.com or www.nymf.org.