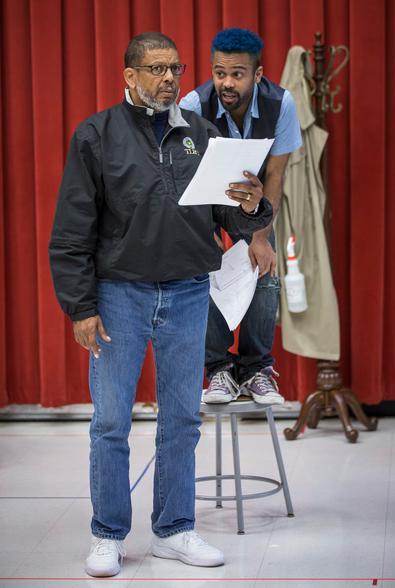 When Regina Taylor's favorite Chicago Barnes & Noble closed, she found herself reeling. "That was my ritual, my home in Chicago," says the writer-director, whose play "stop. reset." opens this month at the Goodman Theatre, where she serves as artistic associate. Her provocative, often dizzying look at how technology is molding today's society was initially sparked by the loss of that beloved bookstore.
"That disruption was an awakening," Taylor says. "I went back to my roots of why I love books, [starting] out as a writer from as far back as I can remember—5 years old, writing my own children's novels."
As she began crafting a play about an African-American book publisher facing extinction in Chicago, however, Taylor's frustration with the rise of e-book technology gave way to the realization that, as she points out, "everything changes. It's generational." During periods of intense sociocultural evolution, it's easy to forget we've collectively endured such chaos before; Taylor says today's conversations about racial and economic inequality and LGBT and women's rights, amid the rapid acceleration of mobile technology, remind her of other cultural upheavals in history.
"There are so many things happening that we haven't seen in this configuration since perhaps the '60s and then back before that." In fact, says Taylor, the invention of books themselves spawned a similar collective outcry. When Gutenberg led the printing revolution, "it was, 'That's the end of civilization as we know it.' You have a person cut off from society with a book."
For the septuagenarian bookseller at the heart of "stop. reset.," the downsizing of print publishers is inextricably linked to a multifaceted identity crisis. As he interviews his four employees, forced to fire one of them to keep the business afloat, he questions every aspect of a world he barely understands—a shifting quasi-digital landscape that Taylor makes startlingly vivid, partly by setting it in the Windy City circa 2015. There's a sense of appropriateness to her developing this particular piece as she celebrates her 20th anniversary at the Goodman (the play's premiere at Signature Theatre two years ago in New York is becoming an increasingly distant incarnation).
"I'm enjoying being engaged with Chicago and this piece," she says. "I'm talking with people about how they deal with changes, [from] professional artists to high school students. They're creating along with me." Taylor has taken this collaboration to an intriguing new level with organized symposia on topics ranging from Afrofuturism to the foreclosure crisis, opportunities for audiences to contribute to the development process before or after seeing "stop. reset."
"There is no separation between these conversations and the piece itself," Taylor explains. Based on this feedback, she's even staged several miniplays about characters mentioned in the play; these short pieces will be filmed and uploaded to the Web to keep a dialogue about this fully fleshed-out world—our world—ongoing. As both playwright and director, Taylor is keeping her mind open and encouraging her audiences to do the same. "You bring your history to everything. The audience's perspective, their minds, might be changed, but I don't go, 'There's one way or the other way.' I challenge people to look at themselves."
She's also looking at herself a good deal. When asked how she differentiates her roles as writer and director, Taylor responds, "At times we're both in the room and at times one of us is in the room. I've become very adept at knowing when that should be." During table reads and initial rehearsals, when cast members often have plenty of questions, Taylor the writer is nowhere to be seen. Taylor the director must put the piece on its feet and refrain from fiddling with content. "The writer then checks in, to see what it is," she says with a laugh. "And the director will give notes to the writer after rehearsal."
Inspired by this post? Check out our Chicago audition listings!