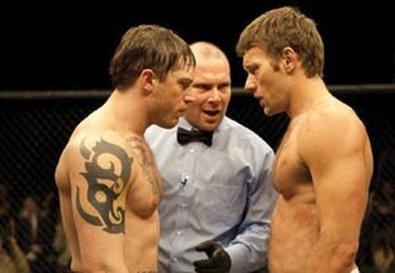 To call it powerful, inspiring, and gripping doesn't nearly do justice to the unforgettable experience of "Warrior," which packs the kind of emotional punch-to-the-gut wallop the screen hasn't seen in years. Tom Hardy and Joel Edgerton give the performances of a lifetime in this must-see film. Even if the title seems to promise another kind of action movie entirely, this is one from the heart. Director and co-writer Gavin O'Connor ("Miracle," "Pride and Glory") seems drawn to this kind of material and fortunately does not let the setting of the world of mixed martial arts overwhelm the riveting family drama that makes up the bones of his story about two estranged brothers who come together in a way neither could have dreamed.
With demons in his past, Marine Tom Conlon (Hardy) shows up in his hometown for the first time in 14 years to get the help of his ne'er-do-well dad (Nick Nolte) to train for a major MMA event called Sparta, in which the winner will take all. As a onetime wrestling wizard, Tommy would seem to be a natural. His brother, Brendan (Edgerton), who once fought but left to become a teacher, also enters the tournament to avert financial disaster for him and his family. What neither could have anticipated, although moviegoers certainly will, is that the two are on a parallel course to the finals and an unprecedented matchup that will go far beyond just winning the money.
"Warrior" isn't interested in just being a very good entry in the fighting film genre. It's also not trying to be another "Rocky," even though it has that kind of heart. Some will compare it to last year's "The Fighter," and in the sense that both are character-driven films that transcend their setting, it would be an apt comparison. But "Warrior" feels more like the kind of dysfunctional-family story that might have attracted an Arthur Miller or a Eugene O'Neill. O'Connor's script, written with Anthony Tambakis and Cliff Dorman, is riveting material ripe for any actor worth his salt. In Hardy and Edgerton, he has a match made in heaven. Both immediately get the nuances of two very different siblings torn apart by circumstance and distance, emotional and geographical. Edgerton, so good in last year's gritty "Animal Kingdom," is a fine if underappreciated Australian actor whose career should soar after this film. Hardy is probably best known for Christopher Nolan's "Inception" and, before that, the critically revered gem "Bronson" his Tommy is the perfect counterpoint to Edgerton's desperate but sympathetic Brendan. Their final confrontation is one for the books. Nolte also gets his best moments onscreen in a long time as the remorseful father caught between two sons and not handling it well. There's also fine work from Jennifer Morrison as Edgerton's warm wife.
Acting doesn't get much better than this, and movies like "Warrior" that push all the right buttons without being manipulative are rare, indeed.

Genre: Drama
Written by Gavin O' Connor and Anthony Tambakis & Cliff Dorman
Directed by Gavin O'Connor
Starring Tom Hardy, Joel Edgerton, Nick Nolte, Jennifer Morrison